Detonations in Pancevo: Fire breaks out at gas station, engulfs trucks; police block roads (VIDEO)
The fire is being extinguished by the Pancevo fire service and by the oil refinery, while the police are blocking the road between Pancevo and Opovo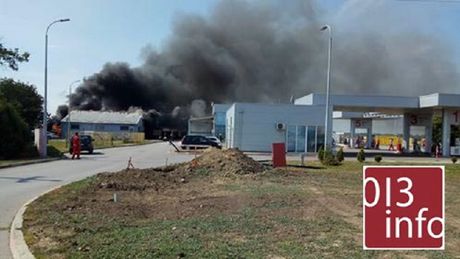 Foto: Aleksandar Tokin/013info
A fire broke out at a gas station on Jabucki road in Pancevo around 1 pm today.
According to 013info, the cause of the fire in the methane filling station at the Ledi gas station is unknown at this time.
According to information from the emergency service and the staff at the gas station, no injuries have been reported during the accident. The fire broke out at the methane filling station for trucks, and several trucks that transported methane burned down, as well as a storage facility behind the filling station.
Firefighters from Pancevo and Belgrade are battling the fire that they managed to localize but had not yet extinguished on Wednesday afternoon.
"Members of the Ministry of Internal Affairs' Sector for Emergency Situations have localized the fire at the Panledi company in Pancevo, which broke out today around 1 pm. There were no injuries. 29 firefighters from Pancevo and Belgrade are participating in the intervention, with nine firefighting vehicles," the Interior Ministry said.
Traffic on the roads from Pancevo to Opovo and Kovacica is blocked for safety reasons.
At about 1 pm, the fire spread to several trucks owned by the company that were in the parking lot at the time. Witnesses say the fire was preceded by two detonations.
(Telegraf.rs/013info/RTS)