Public sector wages to increase 15 percent from Nov.1: Here's who gets how much (PHOTO) (VIDEO)
At the end of August we had a surplus of 46.4 billion dinars, which is 60 billion better than expected - the prime minister emphasized
Serbian Prime Minister Ana Brnabic said she was proud to say that a positive budget revision has been adopted by the government, which will be forwarded to the Parliament of the Republic of Serbia to decide on. She added that revisions in the past came in a negative context, but that this was the first positive revision in the history of Serbia.
"This means that we have it, not because we increased expenditures, but because we increased revenues, which are higher than expected. So we want to give something back to the citizens of Serbia. And to invest in infrastructure for the sake of a better life of citizens. This reflects how different we are as a government and as authorities, and how differently we treat the budget. All this would not be possible without the discipline that the government kept and certainly not without better results of the economy, without the revenues for the budget of the Republic of Serbia, which is the result of reforms," said Brnabic.
She told a press conference at the government that by far the biggest pay rises would be in healthcare, 15 percent for nurses and technicians and 10 percent for doctors.
"We need to fight to keep our medical workers and technicians, as well as doctors, by continuously increasing their salaries, which will happen before the end of the year," said the prime minister.
She stressed that the state is fighting against them leaving by investing one billion euros in health infrastructure in clinics, hospitals and elsewhere.
As she said, with the rebalancing of the budget, the government wants to distribute these increased revenues and return something to the citizens through raising their wages and supporting pensioners, in line with priorities, for a better standard of living and through additional investments in infrastructure.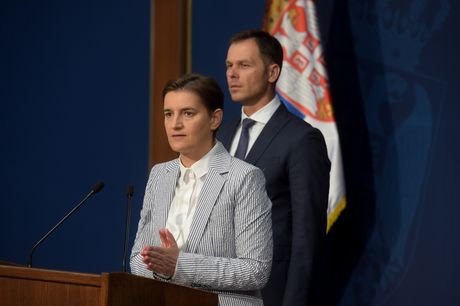 "At the end of August, we had a surplus of 46.4 billion dinars, which is 60 billion better than expected," she said.
She added that everything that is being done today would not be possible without the difficult fiscal consolidation measures that were launched in 2014 when Aleksandar Vucic was the prime minister.
Education sector employees, judges and prosecutors, as well as employees of courts and prosecutors' offices, welfare institutions and members of the security forces will receive a nine percent increase.
"The pensioners will receive a one-time payment of 5,000 dinars, and from January 1, 2020 they will receive an increase in pensions of at least 5 percent, but we will strive to make it more," said the prime minister.
130 MILLION EUROS FROM THE BUDGET FOR THE MORAVA CORRIDOR
Serbian Prime Minister Ana Brnabic announced today that an additional 120 million  euros will be allocated directly from the budget for the Morava Corridor, thanks to increased budget revenues, which exceeded the plan by 60 billion dinars.
Brnabic said at a news conference dedicated to the first positive budget rebalancing in Serbia's history that a greater part of the budget revenues of 16.8 billion dinars will be directed towards infrastructure projects - the Morava Corridor and the Milos Veliki highway.
As she explained, the positive budget rebalancing is partly aimed at increasing salaries and pensions, improving the living standard of Serbian citizens, while the other part is meant for infrastructure projects that are important for our economic growth and improving the competitiveness of the country, as well as for improving the quality of life of the population.
"A total of 16.8 billion dinars will be provided thanks to the positive rebalancing, to give additional funds for infrastructure projects, namely for the Morava Corridor, i.e., the Pojate-Preljina section, which is extremely important, despite some leaders of some opposition groups saying that the Morava Corridor is completely unnecessary, that it's a waste of money. We will invest more in the Morava Corridor than we had planned," said Brnabic.
She emphasized that this corridor is extremely important for people living in Cacak, Krusevac, Kraljevo, Trstenik, Cicevac, Vrnjacka Banja, throughout Raina, Raska and Moravica districts.
"A total of some 120 million euros is earmarked from the budget for the construction of the Morava Corridor, and I expect construction to start as early as next month, in October this year," added the prime minister.
Another infrastructure project, she said, is the Milos Veliki highway - the section from Cacak to Pozega, which, according to her, is one of the most important sections in Serbia.
Brnabic recalled that construction of this section started in the spring and that work is progressing well, adding that President Aleksandar Vucic insisted with the contractors to finish the road to Pozega ahead of time and complete it by the end of 2021, which has been set as a new deadline.
"We have also provided, with a positive rebalancing, the means to solve the problems of the citizens who took out loans indexed in Swiss francs, as well as additional funds for the payment for the damage done to public buildings due to natural disasters," said Brnabic.
The prime minister stressed that, while drafting a positive budget revision, she was guided by the public interest, taking into account that fiscal stability should not be compromised in any way.
"Today I am extremely happy to lead the government of Serbia, which continued along the path paved by the government of Aleksandar Vucic, that we also maintained discipline, that we continued to improve business in Serbia, so that the economy could operate more successfully, because without that the increase in budget revenues could not have happened," Brnabic said.
The prime minister reiterated that these expenditures will not jeopardize the budget's stability, noting that public debt continues to fall and now stands at about 52 percent of GDP, while we continue to have a low and stable inflation and a stable dinar exchange rate.
"A big thanks to the National Bank of Serbia for working really hard and responsibly, side by side with the government of Serbia, to maintain the stability and security that Serbia managed to achieve through hardship," Brnabic said.
"All this reflects how different the government, that is, the authorities are from those before 2014, and with how much more discipline and responsibility we treat the taxpayers' money," Brnabic concluded, adding that all this would not be possible without the difficult fiscal consolidation measures that were launched in 2014 under the government of then Prime Minister Aleksandar Vucic.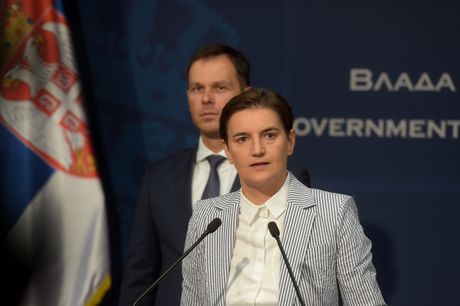 FOREIGN DIRECT INVESTMENTS
Foreign direct investment in Serbia reached 2.32 billion euros in the first seven months of this year, an increase of 43 percent over the same period in 2018, Serbian Prime Minister Ana Brnabic said today.
"It's a great pleasure for us to be the world leader in attracting foreign direct investment," Brnabic said at a press conference in Belgrade, noting that in 2018 Serbia attracted more foreign investment than the entire Balkan region combined.
The prime minister recalled that the British newspaper Financial Times declared Serbia a world leader in attracting foreign investments for the second time.
"We remain leaders in attracting foreign direct investment, with the Financial Times proclaiming us a leader in attracting foreign investment for the second time, and, according to preliminary information, in the first seven months of this year we have attracted 2.32 billion euros in foreign direct investment.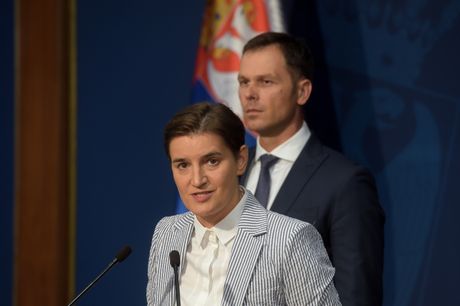 WHERE IS INCREASE OF DIRECT FOREIGN INVESTMENTS COMING FROM
Prime Minister Ana Brnabic said today, when asked by reporters, that the increase in FDI by 43 percent compared to last year is considered historic in this regard, because Serbia is an increasingly credible investment destination.
"This was not easy to arrive at and is accomplished by brining one by one investor, by offering good conditions, and not subsidies - they are the smallest item in all that, more important are a predictable environment, good communication with the government, transparent conditions, no corruption," Brnabic said at a news conference.
She stated that the arrival of Ikea was very important because, as she says, "everyone knows they don't go where there's corruption."
"If you have Ikea that came after 10 years of negotiations, when it didn't believe in Serbia, and its stays here and decides to expand, then you have the German Continental, MTI, NCR... then all that slowly shifts the focus of all other investors to that country, and then it's much easier for Serbia to attract investors," said Brnabic.
But, she stressed, Serbia has done a lot before that to improve business conditions, adjust the environment especially for investors in the booming IT sector, science and technology.
"All these things together produce results," the prime minister concluded. MALI ABOUT KOMERCIJALNA BANK PRIVATIZATION PROCEDURE
Finance Minister Sinisa Mali today did not want to comment on the privatization process of Komercijalna Banka that is under way, so as not to call into question the credibility of the process itself.
Mali reminded that there were four non-binding bids for Komercijalna Banka and pointed out that a commission was working on analyzing them.
"I cannot and wouldn't like to comment on the procedure. When the commission finishes the job we will publish it, we will have all the information," - said Mali at a press conference when asked about Komercijalna Banka.
He added that he did not want to call into question the credibility of the proceedings with any of his comments.
Asked about the repeal of the law on wage reduction, Mali recalled that the law was repealed at the end of last year with a delayed effect, and added that it would enter into force on January 1 - that is, that starting January 1 there would be no restrictions regarding wages in public companies and public utilities, giving those firms the opportunity to increase wages by five percent.
PRIVATE OR PUBLIC SECTOR
Asked by journalists what the experience in the private sector was, compared to working for the state, the prime minister of Serbia said that it is much easier to work in the private sector, where there are many more chances and better conditions.
"In the state administration we've raised wages at least 8 percent, and mostly for nurses and technicians. Everyone is asking what are you doing to keep health care people in Serbia... it's important for us to invest in health care and to invest in health infrastructure and to keep health workers in Serbia, we don't improvise but act strategically. It's much more tempting to work in the private sector at the moment, certainly."
"I urge people to think about entrepreneurship, young people don't have to pay any taxes for the first year, if they succeed they start paying taxes and contributions, if they fail, they tried, at least they didn't sit at home and wait for someone else to give them a job," said Brnabic.
Minister Sinisa Mali said that as a student he worked in the private sector, and that he never had the idea of working in the state administration, but got there as a result of circumstances.
"There are both positive and negative things, the possibility of much greater success is in the private sector, in the state you have the opportunity to give back your knowledge to the state and thus provide a better future for our children. If you can combine the public and private sectors, I would always give direction to move towards the private sector, but with an understanding of how the state works,"- said Mali, adding that young people need to have more faith in themselves.
(Telegraf Biznis)
Pošaljite nam Vaše snimke, fotografije i priče na broj telefona +381 64 8939257 (WhatsApp / Viber / Telegram).