Diver finds "artillery" at Sava River's bottom: Hand grenades, mortar shells - and some real shells
It is estimated that hundreds of thousands of tons of war equipment are in located in our waters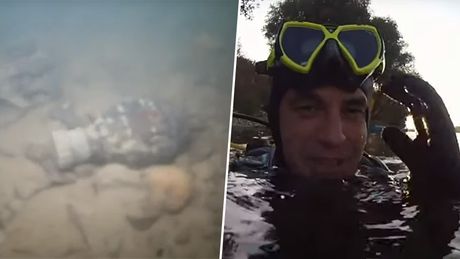 Hand grenades, mortar shells, and a few freshwater shells - such inventory could be recorded at the Sava River bottom. While diving in this river, a young man found an entire mini-artillery, left over from numerous conflicts that, unfortunately, took place in this region.
Under the water, he found bombs, hand grenades and those that are used in mortars. As he said, he was diving at a depth of eight meters near Sremska Mitrovica - and the underwater world he saw on that occasion he jokingly described by saying, "Our natural resources are different..."
It's no secret that Serbia's rivers are full of testimonies of all the wars we have gone through in the last century. Even today, some people don't swim in the Danube and the Sava, remembering everything that these rivers carried until only a few decades ago.
As soon as the water level drops on the Danube, German "ghosts" emerge from it - those ships that were sunk as the Nazi fleet retreated before the Red Army in September 1944.
It is estimated that hundreds of thousands of tons of war equipment are in located in our waters, but this video shows that some of these weapons are even at our fingertips.
VIDEO: Strong explosion shakes Frankfurt
(D.D.S.)
Telegraf.rs zadržava sva prava nad sadržajem. Za preuzimanje sadržaja pogledajte uputstva na stranici Uslovi korišćenja.