People, not marbles live in Serbia! It's taking long: Vucic calls on V4 to help with EU accession
Serbia's president says the EU should tell Serbia whether or not it can become a member in 2025 if it meets all conditions
Serbian President Aleksandar Vucic attended the Summit of the Visegrad Group (V4) in Prague, at the Lany chateau, at the invitation of Czech President Milos Zeman. He called on the members of the Visegrad Group today to support Serbia in European integration and to "push" it along that path, so that Serbia can also say that it has friends in Brussels who will fight for it.
"The way you used to look to many western countries, today we look to the Visegrad Group and the successes you have achieved," said Vucic at a joint press conference after the Visegrad Group Summit held in Prague in an extended format.
He added that he hopes and believes that Serbia will one day belong to that club.
"With our hard work and effort, we also need your understanding and support," said Vucic, adding that these countries will always have the support of Serbia in all multilateral bodies and in the international community.
The president conveyed that he said at the summit that Belgrade initially had, as one of the conditions, the reaching of a legally binding agreement with Pristina, but that we are no longer sure what it means - is it mutual non-interference with joining certain organizations - since individual EU members as well as the US, are demanding Serbia's recognition of Kosovo, which, he points out, was not a requirement at the beginning of the negotiations under Chapter 35.
"I also said that people live in Serbia, that we are not marbles, that we entered the European integration process in 2000, that the authorities said the process would be completed in 2007, and that today we cannot say with certainty that we will even join the EU in 2025, even if we fulfill and do everything that is required of us," said Vucic.
This, he stressed, means that not everything depends on Serbia and that his plea to the members of the Visegrad Group, sincere friends of Serbia and supporters of EU's enlargement, is all the more so to help us in this matter, so that Serbia can also say that it has friends willing to fight for us.
"I know that everyone is fighting for their interests, their countries and citizens, but there were countries that pushed forward each of you and we ask that you be the representatives of Serbia in Brussels, the EU, in all forums, to help us, because we will, as loyal friends, contribute to the EU and accelerate the development of our bilateral relations," said Vucic.
He stressed that he openly discussed everything with the friends from the Visegrad Group and Slovenia, most notably the EU enlargement to the Western Balkans, and expressed his expectation that those countries would support Serbia but also take concrete steps to make the process faster for Serbia.
"I was asked only about the enlargement of the EU to the Western Balkans and I told our friends and Borut Pahor that we hope that they'll be the ones who will not only support us, but would, through concrete steps and direct efforts influence everyone else and make the process faster and more transparent for Serbia," said Vucic.
He spoke, he said, about all the problems we are facing.
"I did not hide or avoid answering questions about Russia's influence in Serbia, the rule of law. We talked openly about everything with friends," he said.
At a joint press conference President Vucic thanked Czech President Milos Zeman for his hospitality and invitation to participate in the meeting.
"It means a lot to Serbia," he said, adding that he was the only one representing a country today that is not a member of the EU.
The president said that the people of Serbia and of the countries of the Visegrad Group perceive each other not only as friendly but also  as brotherly countries, and that this is a good basis for cooperation.
"I am honored to have the opportunity to be your guest and a guest of the Visegrad Group, in this place not far from Prague," concluded Vucic.
"TELL US, SO WE KNOW: CAN WE JOIN THE EU IN 2025, OR NOT"
Serbian President Aleksandar Vucic said today in the Czech Republic that the EU should tell Serbia if it can become a member in 2025 if it meets all the conditions - or not.
"People, let us know, tell us if we can count on it - if we fulfill what you tell us can we become an EU member in 2025 or not. That's what you told us two years ago. Just tell us, so we know, so we can count on what kind of future we'll have, because you can't make calculations for one year, countries are lead differently, you have to have longer-term and more serious plans," Vucic said at a joint conference after the meeting with representatives of the Visegrad Groups.
Asked by a Hungarian journalist what other countries can do to accelerate the process of Serbia's accession - which, as the journalist said, is proceeding very slowly - Vucic said that Serbia needs someone to speak openly about Serbia and the Western Balkans in front of European representatives.
"If I may define it in one sentence without making anyone in Europe angry, we need someone to speak openly to all European representatives about Serbia and the Western Balkans, not just when we meet with each other. That is why I'm certain, knowing the Hungarian leadership, that they will do this and I'm pleased that it seems to me we can hope for that from the Visegrad Group as well," said Vucic.
Vucic said this was a plea and a cry of a nation that needs attention, that has completed important economic reforms, and has much more to do in the area of ​​the rule of law.
"We just plead for support. We are not asking for charity, we are looking for respect for Serbia and we are able to reciprocate," said Vucic, adding that Serbia in the EU would not be the bloc's poorest state.
He also noted that Serbia would be at a much higher level if it had been receiving money like some other states.
"If we received 10 billion euros or more in assistance, we would be at a significantly higher level. We are not seeking for charity, only for respect," he said.
The president said that Serbia perceives all countries of the Visegrad Group as sincere friends and thanked them for wanting to hear it out.
"We hope for many things, for V4's great help. Thanks for wanting to hear us out, we will know to appreciate that, because others didn't even want to hear us out," concluded President Vucic.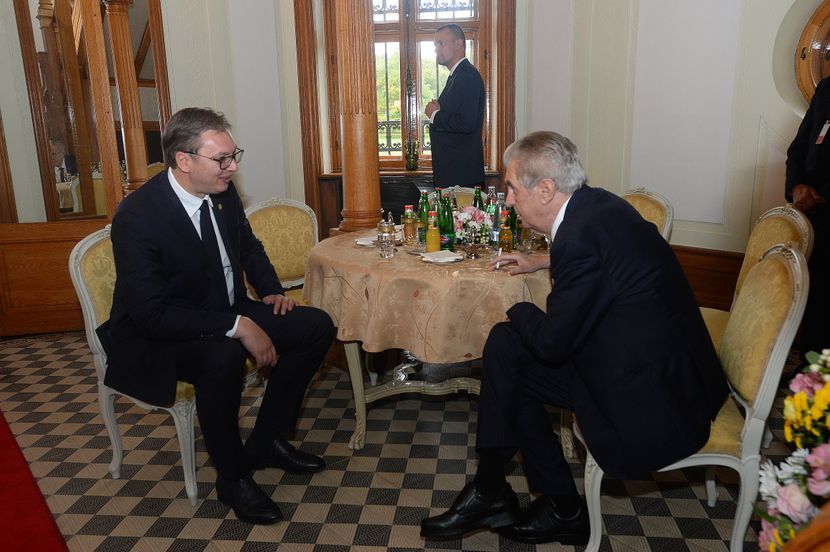 VUCIC AND ZEMAN ON THE POSSIBILITY OF CHANGING THE POSITON ON KOSOVO
President Aleksandar Vucic has told members of the Visegrad Group that a compromise solution for Kosovo and Metohija is the only possible path for the future of the entire Western Balkans, but, as he stressed during the press conference, he can't interfere in the internal affairs of any country, not even about the decision on a possible change of stance regarding the status of the so-called Kosovo.
Czech President Milos Zeman picked up on those words, adding that when it came to his initiative to have Prague annul its decision to recognize Kosovo's independence he would try to convince his colleagues.
"I said that, in the first meeting with the representatives of the Czech authorities dealing with constitutional issues, I would put forward a proposal to withdraw the recognition. We are a democratic country, I can be outvoted, but I will try to persuade my colleagues about withdrawing the recognition of Kosovo," he said.
"I would like others to have a similar opinion," he added.
Vucic said he was grateful to Zeman for his support in this regard:
"I am grateful to Czech President Milos Zeman for his stance on Kosovo. Today I spoke about our policy towards Kosovo and the problems we face. I reiterated Serbia's position that a compromise solution is the only possible path for the future of the entire Western Balkans and in the EU, but also for better relations between the people living in the Western Balkans," said Vucic.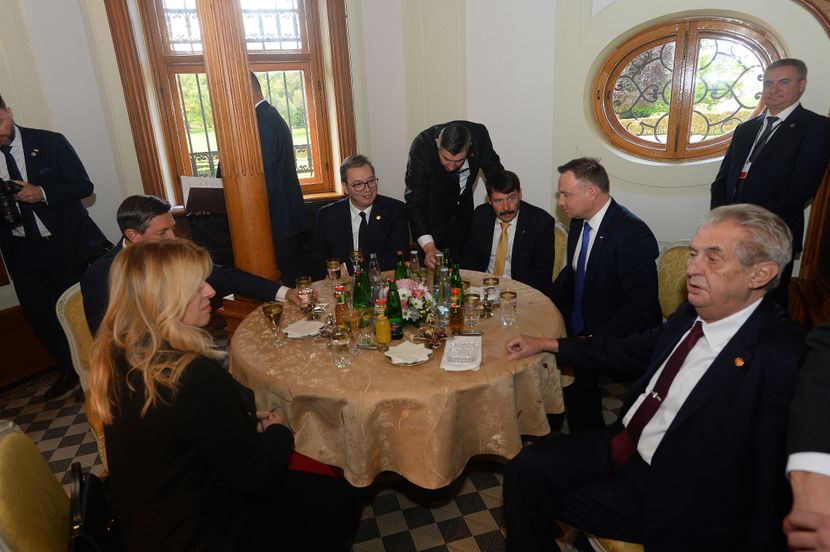 VISEGRAD GROUP'S SUPPORT FOR SERBIA
At today's Summit in Prague attended by Serbian President Aleksandar Vucic the Visegrad Group unanimously supported Serbia - as stated by the host of the event, Czech President Milos Zeman - "in every possible way."
The message of support for Serbia was presented by the heads of member states of the Visegrad Group: Poland, the Czech Republic, Slovakia and Hungary, delivered at a joint press conference attended by the Serbian president as well as President of Slovenia Borut Pahor, as participants in the extended "V4 Plus 2" format of the summit.
The president of the Czech Republic, the host country, who invited Vucic to participate in the gathering - which is also interpreted as a  precedent of sorts - said that all members of this alliance support Serbia's accession to the European Union.
"I'm glad to inform you that all presidents unanimously support Serbia's EU accession. They are ready to give the fullest possible assistance to this membership," Zeman said at the press conference.
Hungarian President Janos Ader stressed that the task of the new European Commission is to, if the candidate countries fulfill all the conditions, eliminate the loss of trust that has arisen in the past due to delayed membership, and immediately implement the enlargement policy regarding those countries.
Ader said that all five presidents from EU member states, including "the visitor" Slovenia, at this meeting once again declared themselves in favor of Serbia's EU accession.
"This is nothing new, but now we discussed that our position will not change going forward," he said.
Ader stressed that enlargement to Serbia as well as to other countries is important because Europe's security depends on stability in the Balkans.
Polish President Andrzej Duda also noted that representatives of Visegrad Group member-states made it clear at the meeting to Serbian President Aleksandar Vucic that they will support Serbia on its path to the EU.
Duda said that the door to the EU should be open to non-member countries, but that there should be clear criteria, deadlines and conditions, as there can be no trust without them.
"The process is difficult to begin with. Our countries have these experiences, we joined the EU 15 years ago and we know the challenges that those countries and those societies face and must accept. This was also emphasized by the president of Serbia," Duda said.
He said that they made it clear to President Vucic at the meeting that they would support him on the way to the EU.
Duda also said that it is crucial for the EU to show that it is ready to receive new members, and stressed that all countries must benefit from an open door policy.
Slovak President Zuzana Caputova also reaffirmed her country's support for Serbia on its path to European integration.
She recalled the experiences of Slovakia saying that the transformation process was beneficial and that after fulfilling all the criteria, Slovakia is today a highly integrated country.
"We still need more integration today. EU membership brings us benefits, people appreciate it, our surveys show. We enjoy a lot of EU's support in Slovakia," she said.
At the invitation of Czech President Milos Zeman President Vucic, a participant in the summit, addressed the news conference after the heads of state of the Visegrad Group.
It us unknown at this time whether Kosovo and Metohija was a topic of the meeting.
PAHOR: ENLARGEMENT TO THE WESTERN BALKANS IMPORTANT FOR EU SECURITY
Slovenian President Borut Pahor said today after the meeting of the Visegrad Group at the Lany chateau that he supports the geopolitical priority of the current summit - that is, support for EU enlargement to the Western Balkans.
Pahor stressed that Slovenia supports the enlargement of the EU to the Western Balkans, as it leads to a reduction in security risks.
He said EU's security risks would increase if the Western Balkans was not integrated, or if this was delayed.
He emphasized that the support of V4 and Slovenia, not only for Serbia, but for the whole region, is very important.
"It's our obligation as members to explain to the EU the need for enlargement. I understand that some believe the EU should first be consolidated internally, but I suggest that we shouldn't forget about enlargement during the implementation of reforms within the Union, especially to the Western Balkans. There could be bad consequences for the EU if enlargement is forgotten," he said.
(Telegraf.rs/Tanjug)