Albanians will have to knock on Serb List door: Djuric talks about forming of government in Pristina
"Albin Kurti is one of the people espousing hard-line and tough positions, he will be a difficult negotiator, but with this result, anyone who wants to form provincial institutions has to end the burdening and the oppression of the Serbs and take a serious approach to the talks with Belgrade," said Djuric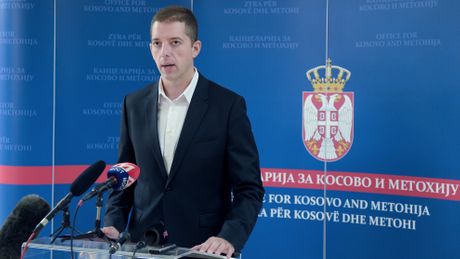 Foto: Tanjug/Tanja Valič
Director of the Government Office for the Kosovo and Metohija (KiM) Marko Djuric said today that there can be no legitimate government in Pristina and no provincial provisional institutions without the participation of Serb representatives.
In yesterday's snap parliamentary elections in Kosovo, the Serb List won all ten guaranteed seats, and Djuric points out that this has made Serbia's negotiating position easier.
"They will have to knock on the door of the Serb List if they want legitimately formed institutions, that's what the Serbs have fought for," Djuric told RTS.
He stressed that Serbs have shown that when things are hard, they know how to stand united.
During the campaign, the Serb List, he recalled, faced obstructions with the aim of separating Serbs in Kosovo and Metohija from Belgrade.
"Serbs in Kosovo and Metohija recognize the importance of unity, respond to the calls of their state," said Djuric.
His message is that Serbs would speak with a strong and united voice in front of Albanians, but also in front of the international community.
According to preliminary results of the elections in Kosovo and Metohija, the victory was won by Self-Determination of Albin Kurti, while the parties of the former Prime Minister Ramush Haradinaj and Kadri Veseli are going to the opposition.
"Albin Kurti is one of the people espousing hard-line and tough positions, he will be a difficult negotiator, but with this result, anyone who wants to form provincial institutions has to end the burdening and the oppression of the Serbs and take a serious approach to the talks with Belgrade," said Djuric.
He added that he couldn't expect anything particularly good from Kurti because he advocates for the creation of a Greater Albania.
"We have the right to rely only on ourselves," said the director of the Office for KiM.
"What awaits us is a difficult period of fighting for the dialogue to be conducted on sound grounds, not the way some separatist leaders think it should be - that Serbia could give everything without gaining anything," Djuric concluded.
(Telegraf.rs/Tanjug)