20 injured in protest against power plant in Strpce, including children; Kosovo police intervene
Serbs and Albanians are participating in protests that have been organized in Strpce for nine months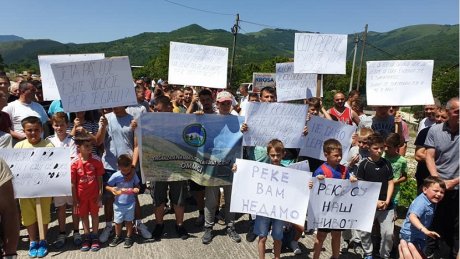 Foto: Facebook/Brezovica Šar-planina
20 people have been injured, including children, in a Kosovo police intervention during a protest gathering against the construction of a mini-hydroelectric plant in the village of Donja Bitina near Strpce.
They first sought help at the Family Medicine Center in Brod and were then transported to a hospital in Strpce. Residents of this part of Kosovo have continued protests because work on the construction of the mini-hydro power plant was expected to continue. Kosovo police sent special forces to the area.
For months, citizens of Strpce have been trying to prevent the construction of mini hydropower plants in their municipality.
Local man Radoica Mrdjinac said earlier that seven mini hydropower plants have already been built in the municipality, and he fears that rumors will come true that the same company plans to build 13 more.
"This would mean that there would be a mini power plant on all rivers, starting from Lepenac, and on each tributary," he said.
Both Serbs and Albanians are taking part in the nine-month protest in Strpce.
(Telegraf.rs/Beta)