Frozen conflict is not a good solution: Vucic talks about negotiations with Pristina
If we cannot reach a compromise with Pristina, which is a prerequisite for making progress on the road to the EU, then, Vucic says, it remains for us to rely on ourselves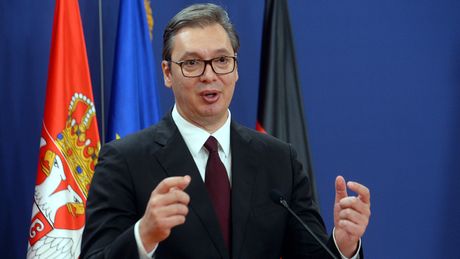 Foto: Predsedništvo Srbije
Not everything is up to us, or even up to Pristina, says Serbian President Aleksandar Vucic, pointing out that EU's decision not to give green light to Macedonia and Albania (to start membership negotiations) shows this.
If we cannot reach a compromise with Pristina, which is a prerequisite for making progress on the road to the EU, then, Vucic says, it remains for us to rely on ourselves.
Asked how he is reacting to Europe increasingly showing that it wants neither Serbia nor the region within its borders, Vucic recalled that he predicted Brussels would not give green light to Tirana and Skopje, and that Macedonian Prime Minister Zoran Zaev did not believe him when he hinted at this in Novi Sad.
"For us the most important thing is to understand that we can change our country and ourselves by ourselves, and push this strongly forward. When I said this four years ago, people said 'look at this fool'. We are accustomed to sitting and waiting for remittance money to arrive, and we receive less remittances than others in the region. And we managed to boost our economy and can do more," he emphasized.
He said that for him, the opening of Europe and the German extending of hand is seen in the signing of agreements with MTU and Brose.
"That's the most important news for Pancevo, Nova Pazova, all of Serbia - from which our budget will be fuller. I am happy that German Economy Minister Peter Altmaier came today to show that Germany supports Serbia's European path," he said.
Asked if the dialogue with Pristina is merely for the purpose of recognizing Kosovo, and that is the goal according to what US President's envoy Grenell has conveyed to him - what sense does such dialogue make, what Serbia can gain from it, and why he fears that the Kosovo issue will be resolved in an international conference, Vucic said that although he hears that he is the arch-traitor every day, he thinks we should talk and try to reach a compromise.
"If not - we'll rely on ourselves," says the president.
We cannot pretend that frozen conflict is a good solution, because, says Vucic, we should not forget that frozen conflict can always be thawed by someone.
He pointed out that investors don't go where there is instability, where they see irresponsible people who will play with all that.
"And then citizens will ask, where are our jobs, why haven't you provided jobs, enough money, you're not repairing clinical centers, you're not building highways," he added.
Vucic told the German minister that Serbia is catching up with and surpassing countries and even Croatia in terms of the number of kilometers of highways, while previously we were 50 percent behind.
We have three times as many highways as Romania, while we are a four times smaller country.
"We are not in the EU, but we are slowly catching up," he said.
Vucic told Altmaier to convey to Germany a message to consider Serbia's position, to take another, better look and to know that what we fulfill what we say, we guard peace, fight for national and state interests.
"Germany's support is very important to us. Those people who think we can do something without Germany are fooling themselves," he concluded.
(Telegraf.rs/Tanjug)