Terrible accident in Novi Sad: Mercedes cut in half and crumpled, driver killed in fatal crash
Last year, a police officer from Beocin died in almost the same spot; a memorial installed there in his honor was damaged in today's accident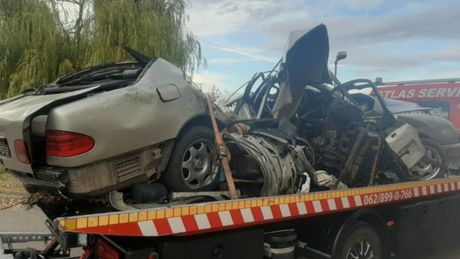 Foto: NS uživo
In the early hours of the morning, a serious traffic accident occurred on the Novi Sad-Backa Palanka road.
The accident took place when the driver of a Mercedes, most likely due to speeding, lost control of the vehicle and hit a tree at full speed.
One man, about 40 years old, lost his life on the spot while the doctors were fighting to save another.
In almost the same place last November, a police officer from Beocin died in a crash. A memorial installed there in his honor was damaged in today's accident.
Video: Horrific collision of a truck and a car! All the horrors of a wet road surface
(Telegraf.rs/NS Uzivo)