Brnabic: Serbia's road is peace, cooperation and joint prosperity
Brnabic, who met with Xi yesterday, said that Serbia has made its choice clearly and unequivocally - a path of peace and cooperation and a path of overall and shared prosperity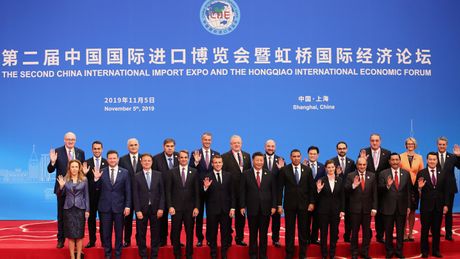 Foto: Milena Đorđević
Economic growth and development in the 21st century can only be achieved in cooperation with other countries, not at their expense, Serbian Prime Minister Ana Brnabic said at the opening of the Shanghai trade fair, and stressed that Serbia is an important hub for the Belt and Road initiative. Chinese President Xi Jinping said economic globalization is a historic, unstoppable trend.
Along with Chinese President Xi Jinping, France's Emmanuel Macron, Greek Prime Minister Kyriakos Mitsotakis and Jamaica's Andrew Holmes, the prime minister of Serbia was one of the keynote speakers at the opening of the fair, which brought together around 150 countries and regions and 3,000 companies represented in the 400,000 square meters of exhibition space.
Brnabic, who met with Xi yesterday, said that Serbia has made its choice clearly and unequivocally - a path of peace and cooperation and a path of overall and shared prosperity. "Our strategic commitment as a candidate country for EU membership is to be changing ourselves every day and constantly build partnerships with as many countries in the world as possible, actively working to resolve outstanding issues in our region," said the Serbian prime minister.
Not only is such a policy correct as a value, but, as she emphasized, it also brings concrete benefits for the citizens, the economy, but also for the partners of Serbia.
Brnabic stressed that the Serbian government wants to further deepen cooperation with China, and that the two countries share the same economic vision of the 21st century - a vision of sustainable development, economic interdependence, balanced trade, peaceful and mutually beneficial cooperation.
"And that all of us can only go forward together," Brnabic said.
She noticed that this year's fair in Shanghai is held at a time when the world economy and international trade are at a crossroads, with everyone facing an essential choice between two visions, that is, two paradigms of international economic relations in the 21st century.
On one side, she pointed out, is the path of peaceful coexistence, cooperation and a common future, which implies further globalization, strengthening economic interdependence, dialogue between civilizations and intensification of interpersonal ties.
On the other side are protectionism, customs and non-tariff barriers, trade wars.
Policy of openness and cooperation
As she said, instead of a future where, instead of working together for the common good, and by pooling resources and means, we are finding solutions to challenges - from climate change, migration, to digitization, we often choose to be closed, not communicate and escape from problems in the hope that these problems will pass us by, and that someone else will have to deal with them. "In the hope that our common problems and challenges will be solved by another country and nation, individually and at the same time, in the hope that our economy, scientists, innovators, will be protected not by investing in them to become more competitive, but by preventing others from competing with them. For me, it is a path that will bring more problems and less general benefits and well-being to all of us every day, instead of making this world, our common world, a better place for all of us," said Brnabic.
She said that Serbia achieved a 4.4 percent economic growth rate in 2018, the highest in the previous decade, that unemployment was more than halved, public debt reduced to 52 percent of GDP, with the highest amount of foreign direct investment in the world, relative to the size of our economy.
She emphasized that thanks to a policy of openness and cooperation, a sincere commitment to the well-being of Serbia, but also to all partners - whether they are in Europe, Asia, America or Africa, companies operating in Serbia can export their products under privileged conditions and duty free to the EU market, as well as to the markets of the countries of the Eurasian Economic Union and Turkey. "Although we are a small country, that cannot match China in any parameter - size, strength and resources - we share the same path - a path of partnership, openness and cooperation, rather than of barriers and closures," said Brnabic.
She stated that China, with constantly high economic growth rates and a contribution to global economic growth of nearly 30 percent in 2019, is today the best example that growth and development in the 21st century can only be achieved in cooperation with other countries, not at their expense.
"We strongly support the continuation of China's policy of opening and reform in a new era. Not only does this policy contribute to China's further progress, it also opens up a number of development opportunities for other countries around the world," Brnabic added.
Serbia determined to seize development opportunity
She said Serbia is determined to take full advantage of this unique historic development opportunity.
According to her, the benefits of "the steely partnership" between China and Serbia are felt in the daily lives of citizens, and Serbia is the country with the largest number of projects and signed contracts with China in the 17+1 mechanism of cooperation.
"Serbia is an important hub on the map of the Belt and Road Initiative," Prime Minister Brnabic underlined.
She stated that Serbia, together with Chinese companies, is working on the development and promotion of the transport corridor "Europe - Asia Land - Sea Express Line" from the port of Piraeus in Greece, through Belgrade in Serbia, to Budapest in Hungary, while the Chinese companies, like Hbis, Zijin, and Linglong are contributing to the re-industrialization of Serbia and regional infrastructure integration, and serve as a bridge for interpersonal and cultural cooperation between our two countries. "The vision of the Serbian government is to deepen cooperation between Serbia and China in the years ahead. To show that the our economies are complementary, despite the differences in size, which can also be expressed in other areas, such as information technology, artificial intelligence, robotics, digital agriculture," said Brnabic.
For all these reasons, the government of Serbia is present in Shanghai, with a number of delegations, precisely to show that the two countries share the same economic vision of the 21st century, a vision of cooperation.
In that regard, she added that she was pleased that French President Emmanuel Macron also shared the same vision of connecting Europe and China, which, she added, was good news for Serbia as well.
She once again congratulated the hosts and President Xi on the 70the year of China's prosperity and thanked him for supporting Serbia's economic development, cooperation, and for openness to Serbia's initiatives, ideas, products and friendship.
She stated that it was a great honor for her to participate, on behalf of Serbia, in the 2nd China International Import Fair in Shanghai.
Brnabic added that Serbia, as a friend, is closely watching and looking forward to the results China has achieved in recent decades, best seen in its dynamic and strong economic growth, dramatic poverty reduction and investment in people.
After the opening ceremony, Brnabic and other leaders toured the fair together.
(Telegraf.rs/Tanjug)