French ambassador says Paris wants Western Balkans, and especially Serbia, in EU
He added that France has no reservations about the Western Balkan countries joining the EU, and that it is a process that requires certain conditions to be met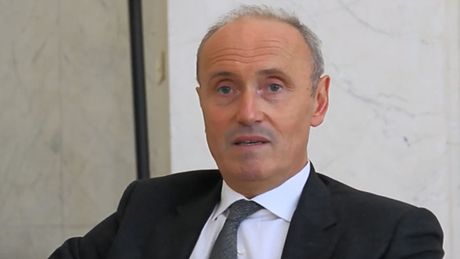 Printskrin: Youtube/Service de Presse Belgrade
French Ambassador to Serbia Jean Louis Falconi said today that Paris wants the Western Balkan countries, and Serbia in particular, to become EU members, adding that this is France's goal and that there is no alternative one.
Speaking for N1 television, Falconi stressed that there is no dispute over France's involvement in the Western Balkan countries joining the EU.
"We want the countries of the Western Balkans, and especially Serbia, to join the EU, that is our goal and there is no alternative one," the ambassador said.
He added that France has no reservations about the Western Balkan countries joining the EU, and that it is a process that requires certain conditions to be met.
In the case of North Macedonia and Albania, although those countries have made efforts, especially with the Prespa Agreement, some of the conditions pertaining to reforms have not been met, Falconi said. He also said that President Emmanuel Macron wanted the EU position to be coherent and for all conditions to be fulfilled, and that there can be no concessions.
"If all the conditions were not met then we would have a process that would be 'slippery'," Falconi said.
The French ambassador stressed that what had happened in Brussels two weeks ago should not be overrated.
Namely, addressing a statement by US envoy for the Western Balkans Matthew Palmer that France made a historic mistake (by not allowing North Macedonia and Albania to commence EU accession negotiations), Falconi noted that the US diplomat knows the region well - but obviously not the EU.
"Macron is committed to EU's reform," said Falconi, who assessed France-Serbia relations as very good, built on a rich history of cooperation and brotherhood and close economic ties. Macron's visit to Serbia was intended to show the desire of France and the EU to be more present in the Balkans, Falconi said, and when it comes to the dialogue between Belgrade and Pristina, he said that a European perspective requires normalization of relations between the two sides.
"I heard that the president of Serbia said he was ready for dialogue, but it's necessary to have a partner on the other side. The first condition is that a government is formed in Pristina, I hope that there will be the will for dialogue afterwards," he explained.
Falconi expressed hope that the dialogue would resume soon and indicated that the EU was the main actor assisting it.
"We are ready to follow and support this dialogue along with Germany, but we are not ready to conduct it instead of Belgrade and Pristina," said the ambassador, adding that France would accept any solution that is in accordance with international law, which Belgrade and Pristina come to.
Falconi described the political situation in Serbia as complex, adding that he did not want to "judge" one party or the other, and that he respected the stance to call for a boycott of elections, but added that participation in elections is a way to have someone's voice heard.
(Telegraf.rs/Tanjug)