Western Balkans is once again the focus of global politics: Serbian diplomat on Geneva event
Milivojevic says the gathering in Geneva organized by the World Economic Forum was very important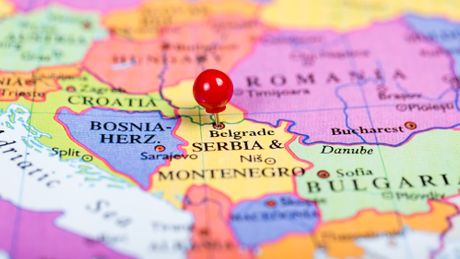 Foto: Shutterstock
Diplomat Zoran Milivojevic believes that Serbia must pursue a rational policy on Kosovo and Metohija and find ways to realize its interests without poking its finger in the eyes of great powers.
Milivojevic said the gathering in Geneva, organized by the World Economic Forum, is important because it shows that the Western Balkans is once again at the center of global politics, especially after the EU decided not to give North Macedonia and Albania a date for the start of membership negotiations.
"Hashim Thaci's decision to go to Berlin to meet with Pompeo confirms the position of Pristina authorities to be directly oriented towards America. Washington, on the other hand, has shown an interest in being directly involved through its envoys," Milivojevic stressed, speaking for RTS.
He believes that the European Union's failure to do something to untangle the Kosovo knot in the last five years is one of the reasons for that. "I'd say they had a historic chance. Not just Federica Mogherini, but the whole team. They were unsuccessful in conducting the negotiations, which showed two things - that the European Union no longer has global weight and that it doesn't have a mechanism to realize its goals and influence the Pristina authorities to continue the dialogue," Milivojevic said, adding that it always ends badly for small countries when large powers play the arbiter.
"It's necessary to lead a rational policy, by no means poke our finger in the eyes of big ones, and look for ways to realize our interests in an optimal way, through wise foreign and rational policy," stressed Milivojevic.
He points out that French President Emmanuel Macron has given a sharp assessments of the state of Europe and NATO.
He says that Albin Kurti's statements suggest that he is not ready for dialogue. "He's talking about some kind of reciprocity. Everything he says proceeds from a platform that is unacceptable to us - recognition and nothing more. When he talks about reciprocity, he demonstrates Kosovo's statehood. That is not bringing us closer to dialogue," says Milivojevic.
He added it was unacceptable to talk immediately about the recognition of so-called Kosovo and the modalities of how to get there.
"It's acceptable for the Serbian side to go back and see what was left behind and for the Pristina side to meet all the obligations that remain to be met, and then see what a compromise could be," Zoran Milivojevic points out.