President Vucic to appear in public for the first time on Tuesday after being released from hospital
He was released from the VMA today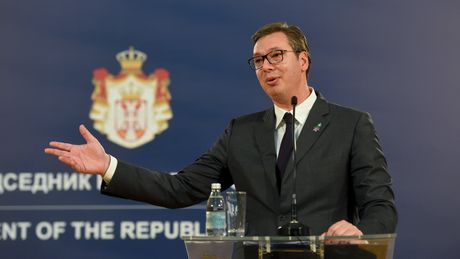 Foto: Tanjug/Dragan Kujundžić
Serbian President Aleksandar Vucic will meet with representatives of the AzVirt company tomorrow, and after the meeting a commercial contract will be signed to build a section of the Ruma-Sabac highway and express roads on the Sabac-Loznica stretch.
This will is also his first appearance in public after being released from the Military Medical Academy (VMA) in Belgrade.
Vucic was admitted to the VMA on Friday for cardiovascular problems, where he spent Saturday and Sunday. His advisor, Suzana Vasiljevic, spoke about his health last night when she said the president felt so poorly that he himself asked to be taken to a doctor.
According to the Belgrade media, he was working reduced hours today on the advice of his doctors, and has had to take the therapy prescribed to him because of cardiological problems.
The media reported that over the weekend many top foreign officials, such as Emmanuel Macron, Angela Merkel, Recep Tayyip Erdogan, Matteo Salvini, Jens Stoltenberg, Viktor Orban, Zoran Zaev, Edi Rama, Marijan Sarec, Borut Pahor, and others sent messages wishing the Serbian president a speedy recovery.
His medical condition is now stable and he left the hospital this morning.
During the weekend, Vucic went on social media to thank all those who wished him a speedy recovery, as well as VMA doctors and medical staff - and said that he would be in "full-time operational" mode as of Monday.
(Telegraf.rs)