Pendarovski ahead of coming to Belgrade: Serbia and North Macedonia share same vision for future
We are neighbors and that is why it is especially important to have excellent bilateral relations, said the president of North Macedonia
Serbia and North Macedonia, as two neighboring and friendly countries with no open issues and sharing a common history and a strategic goal - EU membership, have the same vision for the future, North Macedonia President Stevo Pendarovski said ahead of today's visit to Belgrade.
During the two-day visit, he will have a series of meetings with the Serbian state leadership.
He expects a positive conversation with President Vucic on many topics of common interest to both countries, primarily political, security and economic issues.
"Serbia and North Macedonia are neighboring countries, which is why it is especially important for us to have excellent bilateral relations. We share a common history, we were once members of the same federation, and since EU membership is a strategic goal for both countries, we have the same vision for the future," Pendarovski said in an interview with the daily Politika.
He stressed that relations between Serbia and North Macedonia are built not only by institutions but also by businesses, as well as by a large number of family ties between citizens of both countries. He recalled that his visit also included a meeting of the chambers of commerce, demonstrating a commitment to the two countries' efforts to strengthen trade and economic cooperation, and said that the "little Schengen" initiative should not be seen as a substitute for membership in European institutions.
"I also think that the format of the initiative should be considered, because the current structure does not cover all countries that are a part of the Western Balkans. In this direction the question can be raised as to how effective the initiative can be in practice if there are only three countries in it, since greater involvement of more countries in the region offers better prosperity to the whole region," Pendarovski assessed.
He explained that there are four so-called freedoms at the heart of this concept: movement of people, capital, goods and services, with the aim of removing trade barriers and facilitating movement and trade in the region. The Macedonian president pointed out that despite different views on NATO membership, Serbia and North Macedonia have excellent bilateral cooperation.
"As neighbors, we share a common concern about the security environment we are in, and we also have many exchange and training programs, so despite the fact that we will soon become a NATO member, and Serbia has decided otherwise, I believe we will continue our good cooperation in the future," says Pendarovski.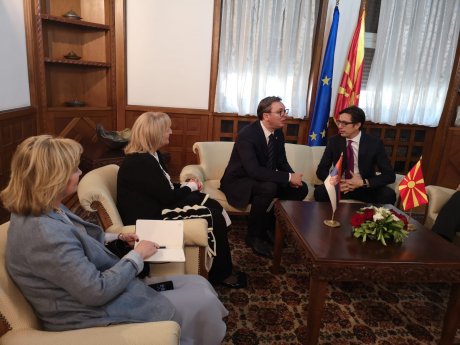 He recalled that North Macedonia is also participating in the European Defense Policy Initiative, and given Serbia's strategic goal of EU membership, he said that defense and security cooperation will continue within the framework of European initiatives.
Pendarovski said that during a recent meeting in Paris, French President Emmanuel Macron assured him that France would like to see North Macedonia as a part of the EU, but also explained his position on reform of the negotiation methodology and explained that he had no intention of offering an alternative to membership in the EU, but to improve the process.
He added that Macron expressed his willingness to visit North Macedonia in the first half of 2020 and to explain to citizens what his views are, namely the functional improvement of the accession process, not just the formalities.
"The conversation with Macron was dynamic and represented an excellent opportunity to present to him our arguments for EU membership, emphasizing that European integrations are our strategic goal and that we are ready for negotiations even with the changed methodology of pre-accession negotiations," Pendarovski said.
He added that what Skopje can now do is continue reforms and wait to see a new methodology for conducting pre-accession negotiations.
(Telegraf.rs/Tanjug)