So-called Kosovo no longer has majority support in the world; Vucic: Result of our successful policy
As many as 17 countries have withdrawn recognition, said the president of Serbia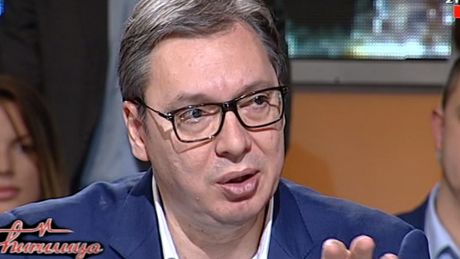 Printskrin: Happy TV/ Ćirilica
Serbian President Aleksandar Vucic was the guest on the Cirilica ("Cyrillic") talk show on Happy TV where he spoke about whether a status solution to the Kosovo issue in sight, can Belgrade and Pristina compromise, what are Serbia's relations with the countries in the region, but also about other current events in the country and in the region.
On the dialogue
When it comes to a status solution for Kosovo and Metohija, Vucic said he does not see one.
"According to what I have received from our services, what the plans of others are, I don't see any possibility of compromise and I don't think that we are close to a solution. To talk is always healing, but when it comes to a status solution that Serbia would accept, I don't see it. Merkel was honest there, she said, 'Aleksandar, I don't see this alternative for you, guard peace and stability'," the president said, speaking about the Belgrade-Pristina dialogue.
On Kosovo and Metohija
The president presented a graph showing the position of so-called Kosovo in the world, and recalled that 17 countries have withdrawn their recognition so far.
"So-called Kosovo no longer has majority support in the world, you see that states are slowly withdrawing recognition," said the president of Serbia.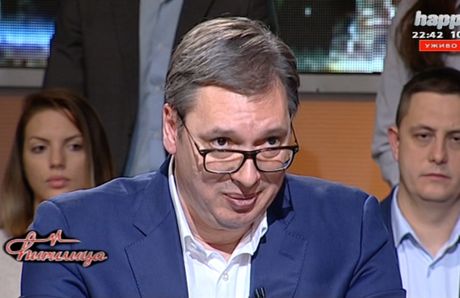 On foreign agents
When the host said that no one has talked about Russian spies for 30 years, Vucic said that he didn't care which country the "guests" came from, as long as they respected the order of the country they are in.
"The network of agents from the region is tremendously branched," the president said.
"That footage is not ours, we have others. And that's why we know this has happened. We only reacted because the video appeared. We have both earlier and later ones and I see them, but we weren't the ones who released that recording," he said of a recent spy affair.
"We must safeguard our independence and military neutrality. Yes, we are on our way toward the EU, but we want everyone to respect our country as we respect them," said the president on the eve of his official visit to Moscow, which he denies is linked from the Serbian side with the publishing of the footage of a Russian agent's activities.
On cooperation in the region
"We gain a lot through it, don't make me explain everything," the president said, denying his involvement in the creation of a Greater Albania.
"There are a few people who are hungry but are leaving for a better perspective than they have in the Balkans," he said, stating that this is a motive for establishing cooperation:
"We must create an environment for that. You must do the things that young people want to hear. Three and a half times more children were born here than in Bulgaria in the same time period. We are in a bad situation, but look at theirs."
On this occasion the president again announced an increase in salaries for medical professionals.
"Compared to all the countries in the region, we have more exports than imports, which has never been the case before," he said, noting that in some countries like Croatia people lived much better than in Serbia even a hundred years ago, and that regardless of the current data, it's a goal difficult to reach.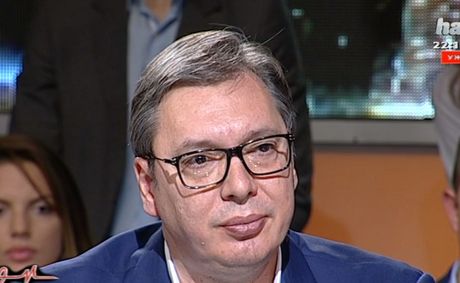 On Sinisa Mali's PhD
Regarding the statement that Sinisa Mali was a praised member of the team of late Prime Minister Djindjic, and that now that he is a part of the team of Aleksandar Vucic he is hated, the president said that his assessment is that this is a promising individual.
He added that in the past similar accusations of plagiarism had been made at the expense of Serbian author Danilo Kis.
"Has nobody heard about Draza Markovic and the communist persecution," said the president, pointing out that only great works remained from Kis.
He commented on the issue of plagiarism, stating that he is happy that Serbia is a country where it's possible to make a decision to annul a doctorate, assessing it as an indicator that this is a free country.
"The whole campaign against Nebojsa and Sinisa is because they dared to say how much money Djilas has stolen," said the president.
"The issue of academic integrity is important. I know how important it was for me to get the top grade from Vesna Rakic ​​Vodinelic, who is my political opponent," he cited an example from his student days, pointing out that he also took the exams with Miroljub Labus.
On salaries
The president commented to say that salaries in the region are closer than before.
"Don't forget that Montenegro had the wage of 505 euros when we had 310. We will now have 510 euros, and they 515 euros," the president said about the average salary and the rise in the standard of living, citing the example of Pancevo, where a square meter will soon cost as much as in Belgrade, as he pointed out, particularly near Tamis (River).
He said that welders will have a salary of 2,000 euros in three years, and that this will be the most profitable occupation in Serbia.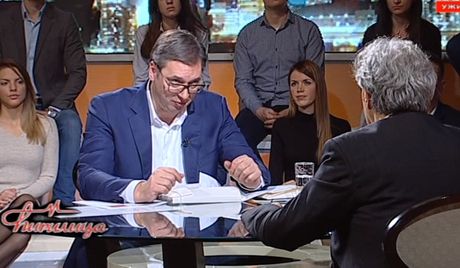 On the birth rate
The president emphasized that in the next two years he especially wants to deal with the issue of the birth rate, and that in the first nine months of this year Serbia is recording an increase in the number of births compared to last year.
"Romania has more than 9,000 people less than last year. They have as many as 4.5 million people in the diaspora. Macedonia is in a difficult situation, similarly in the Serb Republic," he cited examples from surrounding countries.
"We have more mothers who are giving birth for the second time, as well as those who are giving birth for the third time, but we have a problem with the first child," said the president, stating that the measures showed some results, and that he knew in what direction to proceed.
He said that there is no Serbia without children.
"For young married couples, we plan to offer apartments in very good locations both in Belgrade and in Novi Sad and Nis and in Krusevac... and in all our other cities and to say that a square meter costs 400 euros and to tell them that we will help them further... which will be several times lower than the cost of renting an apartment," said the president, pointing out that he wanted to help people achieve the Serbian dream.
The country is being built
"You can see with the naked eye how much is being built today. But for that you have to create conditions. That came from tough reforms in 2014. This is not just a fiscal consolidation," the president said, pointing out that 40 percent more construction is under way in Serbia today than before.
When the host said that the president is showing up at events to, for example, open Belgrade Waterfront, when he is asked about comments posted on Twitter, among other things - Vucic asked citizens to forgive his emotion, and that if he lashed out at someone it didn't mean he would insult them.
"Serbia today is by far the leader in investments. Other countries in the region cannot compare with Serbia," the president said, noting that earlier, money was borrowed at a 7.5 percent interest rate, while Sinisa Mali's current results are a cause for pride.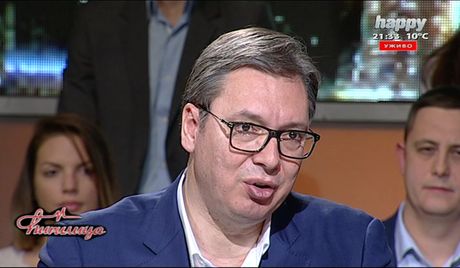 People have their own problems, they don't want to hear about my health
When asked by about his health, the president said that there was no desire to hide something but that he didn't come to the show to talk about that.
"I can't judge it, but I have chronic problems, it didn't start yesterday. People have their problems, it's our job to take care of them. My health, and I'm old enough, doesn't matter," he said, commenting on allegations that his health condition had been dangerous.
He also said that there were those who called him out of concern, leaving messages....
"Seselj, Jovanovic, some other people from the Democratic Party... There are good and bad people in my own party, they exist in other parties as well. It's not about political affiliation," he said, adding that he was also contacted by Macron, Dodik, Erdogan, Salvini, Borisov, Merkel, during his recent health scare.
The president said that he had been negligent and had failed to take his prescribed therapy regularly.
(Telegraf.rs)