A great and sincere friend of Serbia welcomed: Vucic greets Lukashenko
The president of Belarus has been greeted traditionally, with bread and salt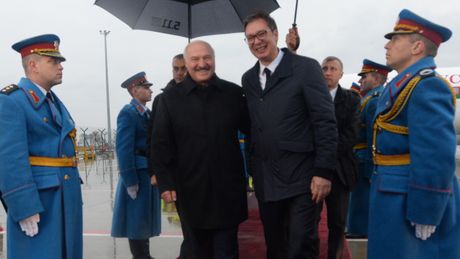 Foto: Predsedništvo Srbije
President of Belarus Alexander Lukashenko arrived on an official visit to Serbia today, and was greeted at Belgrade's Nikola Tesla airport by Serbian President Aleksandar Vucic.
"Welcome, great and sincere friend of Serbia," the President of Serbia wrote on his official Instagram profile @buducnostsrbijeav, posting also photos from the ceremony.
The president of Belarus has been greeted traditionally, with bread and salt.
The two presidents will today lay wreaths at the Cemetery of the Liberators of Belgrade and at the Red Army Monument.
Lukashenko's visit continues tomorrow, after a formal ceremony at 10 o'clock, followed by a face-to-face meeting between the two presidents and a plenary meeting of the delegations of Serbia and Belarus.
A ceremony to mark the exchange of signed bilateral documents will take place next, after which Presidents Vucic and Lukashenko will address the media.
The Serbian Chamber of Commerce, in cooperation with the Belarus Chamber of Commerce and Industry and the embassy of Belarus in Belgrade will organize a business forum tomorrow in order to develop economic cooperation between the two countries.
According to the latest available data, Serbia exported $41.4 million worth of goods and services to Belarus in the first nine months of this year, an increase of 12.8 percent over the same period last year.
On the other hand, imports from Belarus dropped by almost $5 million, or 9.3 percent, statistics show.
In 2018, Serbia-Belarus trade reached $143.2 million with exports amounting to $51.7 million, up 22.5 percent from 2017 when they stood at $42.2 million.
By the value of exports Belarus is in 34th place as Serbia's trading partner - 37th in terms of the value of imports.
(Telegraf.rs/Tanjug)