They justify ruling because their career is built on lies: Djuric on Albanian politicians' reactions
"A lie cannot be imposed as the truth by force, even if it is spoken a thousand times," said Djuric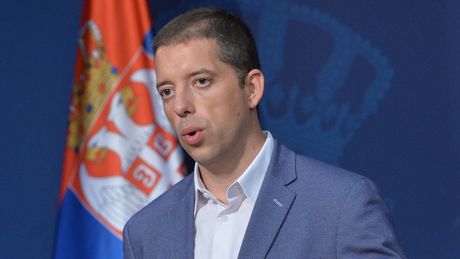 Foto: Tanjug/Zoran žestić
The director of the Office of the Serbian Government for Kosovo and Metohija, Marko Djuric, said today that Pristina politicians - Hashim Thaci, Ramush Haradinaj, Vlora Citaku and Behgjet Pacolli - are trying to justify the verdict passed against Ivan Todosijevic, because their whole careers are built on lies.
This was Djuric's response to the strong reactions of Pristina politicians to a statement made by Serbian President Aleksandar Vucic, who said it was terrifying that former (Kosovo) Minister of Administration and Local Self-Government Ivan Todosijevic was sentenced to two years in prison because he said the 1999 crime in Racak was a fabrication.
In a press release, Djuric said that nothing unites Albanian political leaders like their hatred of Serbian President Aleksandar Vucic, because he is "unwaveringly strikes at the foundations of the false Kosovo statehood, which rests on chauvinism, fabrications and fiction." "A lie cannot be imposed as the truth by force even if it is spoken a thousand times, because we, as a people, will unanimously stand in defense of the truth each one of those thousand times - although, those individuals among us who call themselves the opposition are silent because they prefer the lies of the Pristina chauvinists over Vucic's truth," said Djuric.
He assessed that Todosijevic was punished drastically for saying something that has been confirmed by both domestic judicial authorities and international forensic experts, while his only fault is that he did not bow his head down and allow the Serb people to be accused of things they did not do.
"Each time Vucic will stand up for justice and those people who are ready to expose themselves to inconvenience and risk in order to defend their right to speak the truth," said Djuric.
(Telegraf.rs/Tanjug)