Serbia can be first country that's ready for membership: Joksimovic with EU Enlargement Commissioner
Minister Joksimovic met with the newly appointed enlargement commissioner at European Commission headquarters in Brussels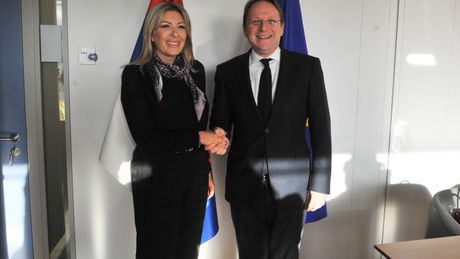 Foto: Tanjug/Zoran Stanić
After her meeting today with new Enlargement Commissioner Oliver Varhelyi, Minister of Eurointegration Jadranka Joksimovic said that Serbia can be ready for EU membership by the end of Varhelyi's five-year term.
"Without underestimating anyone else, and wanting the whole region to prosper, I believe that Serbia is the one that can be ready for (EU) membership by the end of Commissioner Varhelyi's term," says Joksimovic.
Minister Joksimovic met with the newly appointed enlargement commissioner at European Commission headquarters in Brussels.
The topics of their conversation covered continuation of EU's enlargement policy, the credibility of future of enlargement and Serbia's expectations along the way.
"Commissioner Varhelyi is well-versed in European politics and in the region and has a balanced and sensible stance towards the enlargement and accession policy. He strongly supports the enlargement policy and Serbia as a country joining the Union," Joksimovic said. Minister Joksimovic said that during their talks Commissioner Varhelyi reiterated his expectation that "at least one country from the Western Balkans would be fully prepared for membership" by the end of his term and assessed that he "no doubt meant Serbia."
Joksimovic points out that EU membership is primarily a "political decision" made by all member states and that Serbia has the important job ahead of continuing reforms and staying on the European course.
"It seems to me that this European Commission, with the messages that President Ursula von der Leyen has already sent, will look at the enlargement policy in perhaps not an easier, but a deeper and more serious way. I think this is Serbia's chance," says Joksimovic.
The minister for Eurointegration notes that Serbia is serious about joining the process of "implementing reforms, not just talking about them" and that this something that is "recognized in Brussels as well." "Proof of this is the opening of a new chapter on free movement of capital. This is an important economic chapter that will make a series of things related to the movement of capital, from banking services to insurance accessible to our citizens as it is to those of the EU," says Jokismovic.
Jadranka Joksimovic added that Commissioner Varhelyi puts the emphasis on strengthening the economies of the Western Balkans and bringing candidate economies closer to what is the economic reality of the EU.
"From our point of view, this is more than desirable because we are undoubtedly the leader when it comes to the economy in the region," says Minister Joksimovic.
Jadranka Joksimovic concluded that Serbia and the new enlargement commissioner will work together well and fruitfully.
She announced Commissioner Oliver Varhelyi's first visit to Serbia for the end of January.
(Telegraf.rs/Tanjug)