Vucic speaks after Tirana meeting: Very pleased, believes that he calculated Serbian interests well
After the meetings, the president of Serbia addressed the public presenting the details
Serbian President Aleksandar Vucic participated in a meeting of the Western Balkans leaders dedicated to the "Little Schengen" initiative last night in Tirana. He met with the Prime Ministers of Albania and North Macedonia Edi Rama and Zoran Zaev.
Vucic said tonight that concrete agreements had been reached in Tirana regarding cooperation between Serbia, North Macedonia and Albania, and that everything will be finalized by the next meeting, in Belgrade, at the end of January.
"It will be a historic meeting because of what we will finalize by then," Vucic said after meeting with the prime ministers of North Macedonia and Albania.
He told reporters that greater cooperation between emergency services and authorities, joint action by fire and police departments in the event of fires, floods, earthquakes... everything the three countries have gone through has been agreed upon.
Vucic said that there was agreement on a single database for security services:
"There will be networked systems so we can help each other and respond immediately and make all capacities accessible to everyone."
He announced that by the end of the year there would be concrete solutions allowing everyone to travel in all three countries using only their ID card.
When one sets foot at the Belgrade airport, no one will stop them in Skopje or Tirana and vice versa, the president said.
He says software for a single labor market has also been created, which will allow attracting more investors.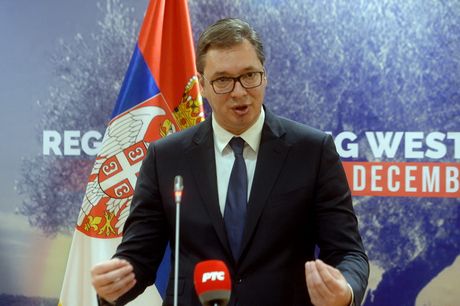 "A single labor market has been agreed, so if an Albanian or a Macedonian moves to Serbia, it's enough to use their phone or computer and apply for a job. So, if an Albanian goes to Serbia and wants to work, we will already have their information, because we are networked. The same will apply the other way."
According to him, this means that within five days a registration number is obtained and a worker can work in the territory of all three countries.
"It's a revolution and fantastic news. We will plug a lot of holes," said Vucic, adding that this will bring "a dramatic inflow of investments, because it is important for foreigners to have safety."
He also said that the number of access and customs weights will be increased at the Tabanovci border crossing, and that phyto-sanitary inspection has been established since since December 1.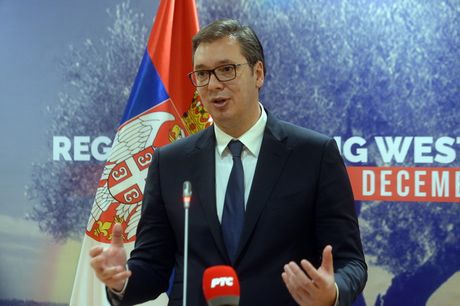 "We will try to get closer when it comes to customs," the president announced, saying the goal was for customs to work 24 hours a day.
According to him, the meeting also saw talks about authorized economic operators who do not have to inspect trucks with goods at the crossings, but can o so before or after the crossing.
Also, Vucic announced talks on green energy, which will not be an easy topic due to the feed-in tariffs.
About the protest in Tirana
People protesting in Tirana against the regional association are much more turned to the past and without a vision of the future, said Serbian President Aleksandar Vucic, pointing out that he was very pleased with the conversation he had with the prime ministers of Albania and North Macedonia, Edi Rama and Zoran Zaev.
Responding to a reporter's question about the protest, where offensive messages were heard at his and Serbia's expense, Vucic said he was used to protests.
He added this was normal in democratic societies and that he saw no particular problem in that, but says that no one can expect bad language to change someone's political stance.
"I am not fascinated when someone wants to change the political stnace with derogatory language, I will not change my relationship, nor will Edi Rama. That's not how it happens," said Vucic, adding that he felt great in Tirana as he was greeted hospitably and had no objection to the people who were in his surroundings.
He says some people do not understand the reality and do not see that a regional cooperation initiative will bring more money, better living standards to Belgrade, Skopje and Tirana and enable people to stay and survive at their homes.
"I can understand Pristina, but why Bosnia won't ..."
Serbian President Aleksandar Vucic said agreements made within the "little Schengen" would bring progress to Belgrade, Skopje and Tirana, and would mean a lot to other countries in the region, but, he noted, "some people do not understand the reality, they don't live in the present and they have no vision of the future."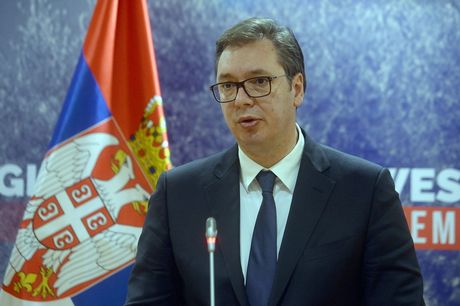 He said he understands Pristina's absence, but his brain, he says, does not extend as far as to explain why Sarajevo (Bosnia and Herzegovina) is absent, who certainly has an interests in these deals.
He message is that he is pleased with the meeting:
"I have 'calculated' the Serbian interest well, I respect the region and I love the region, but my job is to take care of Serbia's interest," he said.
If all this suits anyone, he says, it's Bosnia and Herzegovina, and why these people are not in the initiative - his mind doesn't reach that far.
"They must be much smarter than I am, if they are much smarter than me, they see problems in all this," said Vucic, when asked how he sees the absence of Sarajevo.
"I understand when someone from Pristina says that there are political reasons - 'we hate Serbia, because Serbia will not recognize Kosovo.' I can't justify that but I get it they are in an extended election campaign and not sure if they'll form a government, so I interpret it that way, although it's not good when you behave partisan-like, not taking care of the interests, as you say, of a country - as we say of the provincial administration - it's all the same, these are interests that are a little above those of a party," said Vucic.
When it comes to Montenegro, Vucic said that he spoke with Djukanovic a couple of days ago.
"And we'll talk openly tomorrow. It would be good, important. I don't hide it they could refuse it, anyone can refuse, we don't have to beg anyone, but we think it would be good for Montenegro and for the whole region," said Vucic after the tripartite meeting in Tirana.
(Telegraf.rs/Tanjug)
Pošaljite nam Vaše snimke, fotografije i priče na broj telefona +381 64 8939257 (WhatsApp / Viber / Telegram).