Romani woman Sandra proves anything's possible even if you're "marked": Only parents believed in her
She didn't view her Romani ethnicity as an obstacle to graduating from faculty, getting a job, starting a family and being an example of how to go all the way to the finish line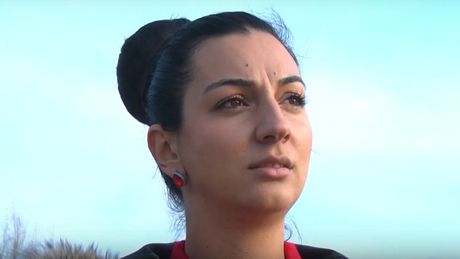 Printskrin: Youtube/ Portal Krug
Life doesn't give everyone the same starting position, but some of us seem to manage that quite easily. Sandra Jokovic from Kraljevo is an educator by profession, a daughter, wife, mother, friend. She is of Romani nationality, although many people in her surroundings are unaware of that, and that's the way it's always been.
"As for my education, I didn't have any benefits over the other children. I was equally involved in school and was accepted by society, a person like any other. I didn't feel discrimination at all, as far as I was concerned. Discrimination does exist - I saw it in the example of other people," says Sandra.
She stresses that even as she was enrolling to her high school she knew she wanted to be an educator, because "the most beautiful work is to work with children." She graduated from high school, and then from the Higher Vocational School for Educators in Krusevac, afterwards completing specialist studies.
"After that, I started a family and I don't intend to stop here. I'll be enrolling to master studies next year," Sandra promises. Her small family world today is made up of her husband and son. She wants to support her child the way she could alway count on her own parents.
"I had great support and sacrifices from my parents, which contributed to me being what I am today: a responsible and ambitious, and above all a good person," our interlocutor said proudly.
Most Romani women point out that a major problem is that still to this day, a part of Romani girls easily drop out of school.
"I think the biggest problem is growing up. I grew up in a completely different environment, in Zica, where I didn't have much contact with the Romani population. I consider the environment to be very important because people take cues from each other. In terms of community support, I didn't have it, specifically for being a Romani. When you are someone who is already 'marked' in some way, people don't believe that you will do something, they didn't believe that I would graduate from faculty. There are always prejudices, and as far as my parents are concerned, they are the only ones who believed, worked hard, gave their best, and sometimes worked two jobs to give me more so I wouldn't feel that difference, that I came from the Romani national community," Sandra recalls. She has an older brother and a younger sister, who is still in high school, studying landscape architecture. To them, and to many other young Romanis, Sandra wants to show by example that everything is possible in life.
"I hope that my example can be of use to them and that if we strive to achieve our goals, we must contribute to that ourselves," Sandra said.
According to statistics, out of 10 Romani women, nine are not employed - either full or part-time - but Sandra seemed destined to be that "one in ten" because she didn't face similar problems.
After completing her studies she registered with the National Employment Service, got the opportunity to attend a professional internship at the Kraljevo Preschool Institution for a year, and upon expiry of that contract - got a job and now works in the kindergarten "Ratarska Kapija" in Kraljevo. The responsibility for the position Romani women in Serbia is in part on the media, Sandra believes.
"In the media, the image of Romani women is extremely bad. I think that not all values ​​are displayed, because there are many educated and smart Romani who need to be highlighted in this way. What's positive should be stressed: that there are educated Romani women and men, I know quite a few who have graduated from high school and university. There are also doctors of Roma nationality, though not in Kraljevo, but - I have heard that there are many."
In Serbia, there are officially more than 27,000 unemployed Romani persons, while according to unofficial data, the real number exceeds 100,000 working-age members of this minority. In addition, the number of unemployed Romani women is four times higher than the number of unemployed Romani men. This is why the issue of education and creating better chances for the future is especially important for new generations of women, who, with the help of various support programs, can, like Sandra, achieve just about anything they set out to do.
Video:

Workers jump a Romani opera singer because they thought she was a thief
(Telegraf.rs/Krug.rs)