Photos of the Zemun accident: Bus driver dies, young man who caused crash ran away from police
Three people have been injured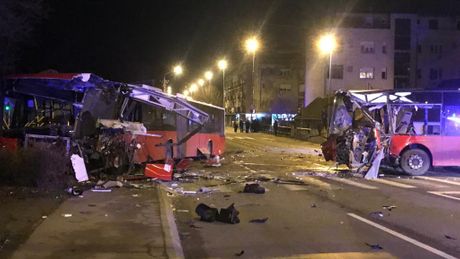 Foto: Telegraf
A traffic accident in Zemun, which happened at 4:10 this morning at the intersection of Cara Dusana and Trscanska streets, has claimed one life. Photos from the site show how severe the accident was. A car involved in the crash has been completely destroyed, as have been two buses. One person has been killed and three injured.
The accident occurred when a speeding passenger vehicle emerged from Trscanska Street to collide with a bus owned by a private carrier. The same vehicle then hit a city bus. According to what Telegraf has learned, the driver of the car attempted to run away from the police. Three people were injured, including the driver of the privately-owned bus, one passenger from that bus and the driver who caused the accident. They have all received medical treatment.
The driver of the city transport company GSP bus traveling on line 15, 30-year-old P.B., passed away on the spot.
Three ambulance crews, firefighters and police came to the scene.
The man suspected of causing the accident was transported to the clinical hospital center KBC Zemun in handcuffs.
The GSP bus was empty at the time of the accident, after leaving the Zemun garage and about to start transporting passengers on line 15, while the private carrier bus operated on line 45. Beside the suspect, another man (53) and a woman (53) were transported to KBC Zemun, who had no serious injuries.
"GSP Belgrade expresses its deepest condolences to the family of the driver who was killed, who lost his life through no fault of his own, and wishes a speedy recovery to the injured. It also urges all traffic participants to be careful and obey traffic regulations, so that such situations do not happen," said the public company GSP Belgrade.
Public Transport Secretary Jovica Vasiljevic, on behalf of the City of Belgrade, expressed his deepest condolences over the traffic accident. "Nothing can bring a young man who lost his life back and that is an irreparable loss for his family. We offer our deepest sympathies to the family of the driver who died and to GSP Belgrade," said in a statement from the Secretariat for Public Transport.
"An investigation into this traffic accident is under way. GSP Belgrade and the private carrier Unacop are cooperating with investigating authorities and the course of the investigation and its results will shed light on all the circumstances of the accident. Based on the initial information collected from the scene, everything indicates that the bus drivers are not guilty and that the car accident was caused by an aggressive driver of a passenger car," the statement added. Video:

Terrifying accident! A bus full of people overturns, passengers fall out through windows
(Telegraf.rs)