Thaci makes threats of aggression? Incendiary speech about regional situation
Those threatening Kosovo will receive a response in their own territory - Hashim Thaci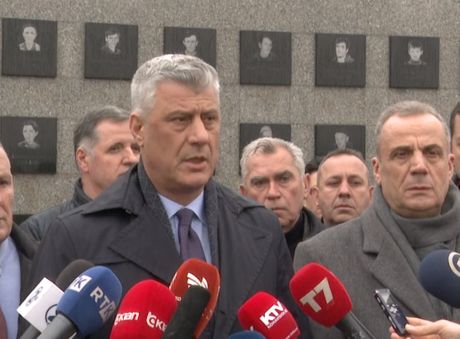 Those threatening Kosovo will receive a response in their own territory, Hashim Thaci has said.
According to Pristina-based Koha, he said this at a parade in the Adem Jashari barracks, marking the 22nd anniversary of the death of one of the KLA commanders and founders.
Prime Minister Albin Kurti said on the occasion that the army of so-called Kosovo needs to be strengthened day by day, as Kosovo "borders with a country that does not recognize it."
"We live in a time where war is unthinkable, but there is no place for frivolity and naivety as long as we have a state that not only does not recognize our existence but works daily to change our reality, and is armed and equipped by anti-NATO powers," he stated.
Members of the KSF were also addressed by Vlosa Osmani, president of the parliament, who said that the KSF would "continue to develop as a professional military force interoperable with NATO forces."
Reacting to this, Director of the Office for Kosovo and Metohija Marko Djuric said that Hashim Thaci's statement that those threatening Kosovo would receive a response in their territory is solid and irrefutable evidence that Pristina is threatening with aggression.
"Thaci's statement represents solid and irrefutable evidence that Pristina is threatening aggression in territories outside the southern Serbian province, and that leaders of the provisional institutions of self-government in Pristina are a latent source of instability in our region, eternally trapped in their wartime past," Djuric said in a statement delivered to Tanjug.
They would like to keep their people and the entire region captive, because they clearly think that this is their only protection from judiciary organs, Djuric stressed.
(Telegraf.rs/Tanjug)