Best book about Yugoslav football is by an Englishman who loves Novi Sad; reveals all about Maksimir
Mills did not "get caught" in numerous myths - in his book, he tried to look at each situation from all angles and provide a clearer insight into the events in the turbulent former Yugoslavia (SRFJ, SFRY) area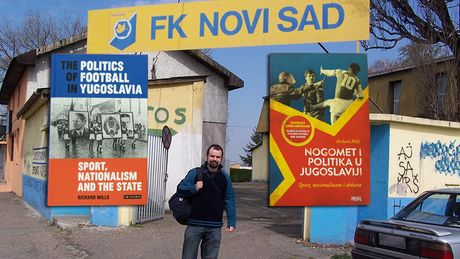 Foto: Privatna arhiva
Richard Mills is not just an ordinary professor from the University of East Anglia - he is a living encyclopedia of Yugoslav and Serbian football, and he turned his knowledge of events from  the pitches from the Vardar to the Triglav into a valuable book, "The  Politics of Football in Yugoslavia."
Mills managed to meticulously cover many details regarding football in this region starting in 1919, and it was a particularly difficult task to tackle the riots at Maksimir, Croatia.
Speaking for Telegraf, Mills presented his view of the events from 1990, which have a special mythical status in Croatia.
In an interview for our portal, Mills describes how a decade of creating the book went, during which he found a great link between his Norwich and Novi Sad - that was the initial point from which he embarked on an adventure that still continues - this professor from England is a frequent spectator at football matches in Serbia!
What was the turning point for your big interest in Yugoslav football, politics and their combination, and why?
I had travelled the world watching football, and I wanted to research the history of the game in more depth. At university, I wrote my undergraduate dissertation on football and the end of communism in Eastern Europe. I travelled to the former DDR, Soviet Union (Lithuania), and Yugoslavia (Serbia) and interviewed people who had been involved in the game during the late 1980s. The main motivations for choosing Serbia as one of the examples was that my home city of Norwich is twinned with Novi Sad, while FK Vojvodina enjoined great success in 1989 (and Zvezda two years later). There is a friendship association linking the two cities, and they kindly sponsored a visit. My interest in Serbia, and the history of Yugoslavia, grew from that initial trip in 2007. I was instantly fascinated by the rich football tradition in the region, and have been working on it ever since.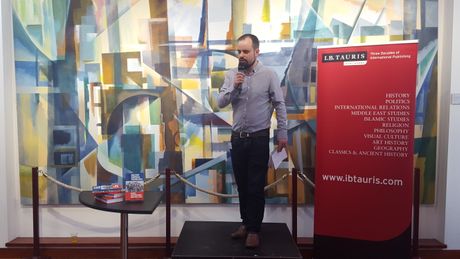 How much time did you spend in Serbia and Croatia?
During those early visits, lots of people helped me to contact clubs, interpret interviews and translate material, but it would not have been possible to write a worthwhile history of Yugoslav football without knowing the language. When I got funding to write a PhD on the topic, I immediately relocated to Novi Sad for 18 months. The brilliant teachers at the university's Centar za srpski jezik kao strani gave me a solid grasp of Serbian during that period, when I also did research at Matica Srpska, Arhiv Vojvodine, and Narodna Biblioteka Srbije. This enabled me to read documents and newspapers, and to speak with people involved in the game. Later, I travelled across the former Yugoslavia, visiting clubs and working in libraries and archives in Serbia, Croatia, Bosnia, and elsewhere. Since becoming a lecturer in Modern European History at the University of East Anglia, I have continued to visit Serbia regularly, while also spending several months in Split, Rijeka, Sarajevo…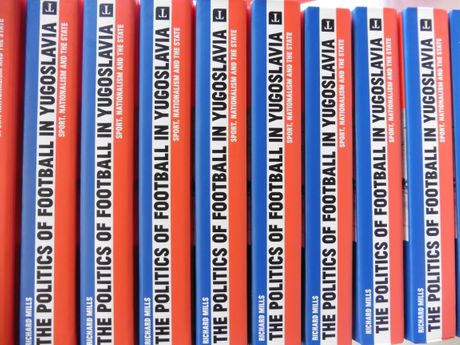 When did you decide to write a book about this?
While I studied in Novi Sad, I watched dozens of football matches across the country. I usually saw 2-3 matches a week, encompassing all levels of the game, from the Vojvodjanska liga to the Champions' League. I travelled by bus, Yugo, and tram, and became evermore immersed in the histories of Spartak Subotica, Radnički Kragujevac, OFK… I also started to write about Serbian football for the British magazine When Saturday Comes. Unlike most other countries with strong football traditions, there was no English history of the Yugoslav game, which is remarkable given the game's importance to the region. So, when I finished my PhD, I reworked it as a book for a broader audience. While exploring the game's relationship with the interwar Kingdom, Second World War puppet states, and communist Yugoslavia, I also wanted to give readers a sense of the surviving historical sites and clubs, from Ljubljana's Bežigrad and the JNA, to the modest grounds of Dinara Knin and Val Kaštel. All have a rich story to tell.
Which story was the most intriguing for you?
The wartime history of Hajduk Split fascinated me. I travelled around Vis – Tito's wartime island headquarters – on a moped hunting for the sites where the club was reformed as the team of the 'National Liberation Army of Yugoslavia', and where they played their first propaganda matches against Allied British teams next to the makeshift airfield. From there, they sailed around the Mediterranean, playing games in packed stadiums in Italy, Malta, Egypt, and the Middle East. On their return to liberated Yugoslavia, they toured the country, meeting Tito in Belgrade. It's one of the most remarkable exploits in football's history.
I also enjoyed reading about the game's pathbreaking role in Yugoslavia's Cold War politics of non-alignment. I was gripped by stories of Zvezda's travels to Ethiopia in the early 1950s, of the Yugoslav youth team's trip to Indonesia, and of the many coaches who managed national representations and clubs across the non-aligned world.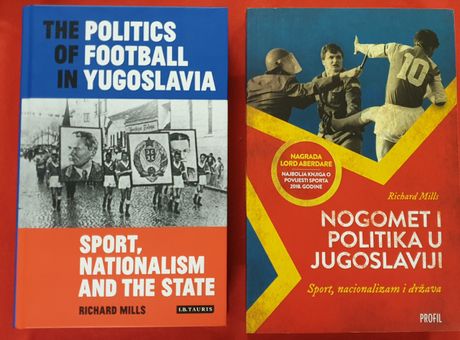 Was it hard to deal with different informations, different points of view and propaganda positions from Serbia, Croatia and other countries?
From my first days in Vojvodina, I encountered so many wonderful people across the region who were eager to help with the project. Perhaps because football was the topic, and because I was an 'outsider', it was always easy to find people to talk to. Of course, it is a challenge to write a history with so many conflicting perspectives, but I always tried to read a wide range of publications from various centres across the former Yugoslavia. As with almost everywhere in the world, Yugoslav football was exploited by various parties during every era, but across the Balkans highly skilled historians and journalists have always been able to produce excellent books and articles, which proved crucial when writing the book.
How do you see Maksimir riots and what was your biggest impression about it?
Politically motivated disorder was common in Yugoslav stadiums at this time, and for decades beforehand. Indeed, the first league match between Dinamo and Zvezda in the 1946-47 season had been marred by violence on the pitch and chauvinist chanting on the terraces. Against the backdrop of a deteriorating political situation, the 1989-90 season featured multiple incidents. While the scale of Maksimir might set it apart from other events, it is really the legends that surround the riot which give it a special part in the history of football and the history of Yugoslavia. The whole event came to be defined by the war that followed. Monuments, murals, documentaries and international journalism that depict Maksimir as the opening battle of the conflict are able to do so because many of those who fought in the actual war were also present at the riot. In the process, the timeline is condensed and events are simplified, as Arkan and his 'paramilitary' Delije are juxtaposed with 'freedom fighter' Boban and the seed of the Croatian Army, the Bad Blue Boys. Important details, such as the fact that the Yugoslav League continued for an entire season after the riot, that several leading Delije members were not present at Maksimir (they were attending an event at Ravna Gora), or that the policeman who clashed with Boban was not a Serb, fade into the background. While there was substantial physical damage and many were injured on that day in Zagreb, other incidents in stadiums across the world have resulted in multiple fatalities and immediate political unrest. Nevertheless, the accuracy of the myth is no longer important: it has developed a life of its own and is now an established part of the global history of the Yugoslav game.
The book is translated in Croatia, in Serbia not yet. Do you have plans to make it in our country? :)
It was very exciting when Profil published the Croatian edition, and it would be great if a Serbian publisher wanted to bring the book to its readers (not least because I spent the lion's share of my time in Serbia, and large parts of it are about Serbian clubs). Bloomsbury is looking for a publisher there, but we will have to see what happens.
How did people react in England?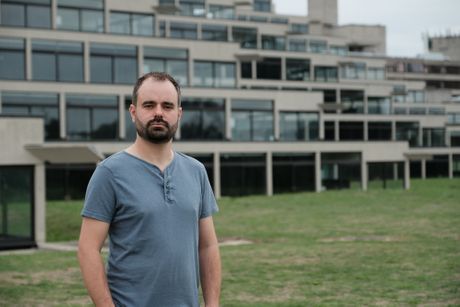 So far, the book has been well-received. A paperback edition came out last year, when it was also awarded the Lord Aberdare Prize for Sports History. It has been great to see it getting media coverage in the USA, Spain, and across the Balkans. Undoubtedly, I have the remarkably rich history of the Yugoslav game to thank for the interest that the book has attracted.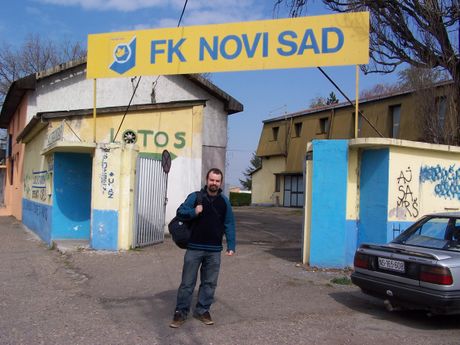 Do you have a sympathy for some clubs from ex Yugoslavia and why?
Given the twinning and my time in the city, I developed soft spots for FK Vojvodina and FK Novi Sad (although they are, of course, historic rivals). As a lifelong supporter of Norwich City, a club with a proud history but almost empty trophy cabinet, it would not have felt right to back one of the Belgrade giants (though I have watched Partizan and Zvezda a lot). Like Norwich, FK Novi Sad play in yellow and are nicknamed the canaries. They were in the second division when I watched them, but once graced the topflight in SFRY. I came back to Serbia to watch Vojvodina in the cup finals of 2013 and 2014, and it was great to see them finally win the trophy and witness the open-top bus parade in Novi Sad. After more than a century of trying, Norwich still await their first FA Cup victory! Elsewhere in the former Yugoslavia, I liked watching Rijeka and Željo, mainly because the Kantrida and Grbavica were such atmospheric stadiums. I also love Vojvodina's stadium, but it was such a shame when the historic clubhouse was knocked down. It gave the ground so much character.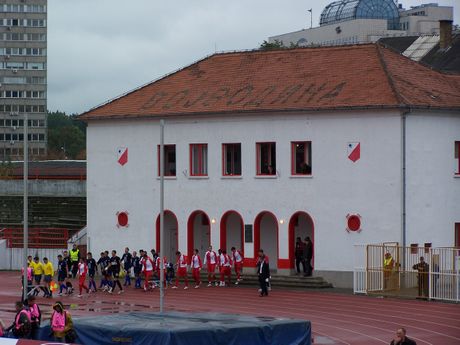 Do you follow actual scene and do you see inspiration for new books?
Yes, I keep up to date with football across the region, and attend as many games as I can. During a short stay earlier this year, I was lucky that my time in Belgrade coincided with Vojvodina's visit to Zvezda, and Proleter's match at the JNA. I always look out for the ex-Savezna Liga's teams in European competition, and very much enjoyed listening to Radio Beograd's coverage of Liverpool's defeat at the Marakana!
Many of the former Yugoslavia's clubs, and not just the big four, deserve histories of their own. There is inspiration wherever you look, from the glorious Zvezda side of 1991 to the histories of persecuted workers' clubs during the 1930s.
Video:

Nenad Bjelica compares Red Star and Dinamo clashes vs. Young Boys
(B. Vinulovic)