Second worst day since start of epidemic: 11 patients die, 118 are on ventilators, 357 new cases
This is the latest cross-section of the situation regarding the coronavirus epidemic in Serbia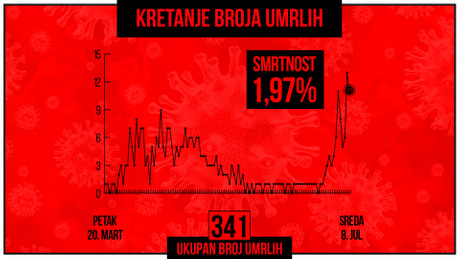 By 3 pm on July 7, 2020, there have been another 357 confirmed cases of COVID-19 in the Republic of Serbia.
11 more patients died during the past 24 hours, so the death toll is now 341.
118 patients are currently on ventilators.
So far, a total of 17,076 coronavirus cases have been registered.
As President of Serbia Aleksandar Vucic said today this is the second worst day in Serbia in terms of the number of new cases.
VIDEO: Vucic shows pictures of police officers stabbed and injured during overnight protests in Belgrade
(Telegraf.rs)