Virologist Ana scientifically refutes Nestorovic's statement: "Coronavirus is not similar to HIV"
Coronavirus cannot disappear just like that, says Ana Banko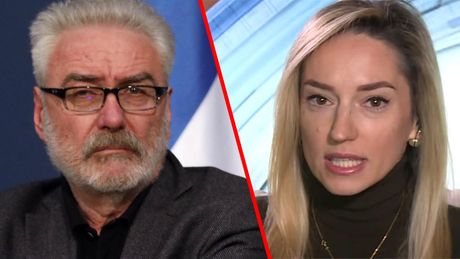 Virologist Ana Banko says that there are numerous misconceptions regarding coronavirus today, and some of them are the supposed similarity of this virus with HIV, as well as the theory of acquiring collective immunity.
"They are numerous and we can talk about them every day. The first misconception is that asymptomatic patients do not exist. Another assumption is that the virus is losing virulence and the ability to damage our cells, however, no study so far has shown this."
One of the misconceptions is that the virus will disappear: this virus has shown an exceptional adaptive ability when it comes to humans, so today we are talking about a "human virus" - she pointed out while speaking for Beogradska Hronika, an RTS show.
"It cannot just disappear. Also, there is talk that the virus will disappear when temperatures and UV radiation increase. The fact is that viruses are not sufficiently resistant to external temperatures, but viruses are 'mandatory intracellular organisms'.
They can survive in our cells, and neither the sun's rays nor UV radiation have an effect there. We see that the virus is circulating in both the southern and the northern hemisphere," she added.
Asked if it was true that coronavirus had initially been compared to the HIV virus, as Doctor Branimir Nestorovic recently said, Banko answered briefly:
"No, it was not."
Banko pointed out that these misconceptions are a part of optimism and hope, such as the story of acquiring collective immunity.
"Unfortunately, that collective immunity lasts for a long time turned out to be almost one of the big misconceptions," she explained.
Ana Banko also spoke about asymptomatic vectors of the virus, stressing that they can transmit both milder and more severe forms of infection.
"Studies that measured the concentration of the virus in the respiratory tract in asymptomatic and symptomatic carriers of different ages, showed that this concentration is almost equal whether it is in children, adults, asymptomatic or symptomatic carriers.
There is no difference in this sense, they are just as dangerous for their environment as those who have the symptoms. They may be even more dangerous, because they are not aware that they are infected," said Banko.
She also touched on the initial assumption that children are not carriers of the virus.
"This is a consequence of previous experiences with previous coronaviruses that had caused epidemics.
It is necessary to conduct serious studies so that we can compare the consequences on different age groups, because everything here is a matter of numbers: the more infected people you have, of course the more of them develop a more severe clinical picture," she explained.
"We know which receptors the virus binds to. What was initially assumed was that the virus binds only in our respiratory cells, which was quickly refuted.
Namely, based on the receptors to which the virus binds, we now know that the virus comes into contact with many cells, not only in the respiratory tract. Today, we are witnessing more complicated clinical pictures that go beyond the framework of the respiratory tract," she said.
"According to latest studies, the virus also shows neuro-invasiveness, that is, causes complications in the nervous system," she added.
She explained that the new research does not represent a discouraging moment when it comes to fighting coronavirus.
"We are always afraid of what is unknown, but the fact is that as time goes by, we are closer to a vaccine," Banko explained.
The old-new virus
This virologist pointed out that coronavirus we encounter is the same one from the beginning of the pandemic.
"This virus, like all other organisms, shows a tendency to change. These changes are a natural phenomenon when the virus passes from one host to another, and we are witnessing the hosts getting more numerous.
The virus is changing, but those changes so far have not shown that the degree of its mutation is worrying. It is lower than the degree of mutation we see with the flu. There is no cause for fear there, at least based on the latest information," says Banko.
Reliability of tests
Banko told RTS that the tests for coronavirus are "sufficiently reliable."
"They have been synthesized in a very short period of time considering that they were necessary in a time of a pandemic. In the meantime, most of them have been validated and verified, and their sensitivity has improved.
Of course, each test has its limitations and the test result itself depends on the sampling method, the time of sampling and the transport of the sample. Also, the interpretation and reaction of an expert when the result may seem unclear is of key importance," she explained.
Protection from coronavirus
Banko pointed out that she protects herself by wearing a mask indoors when the distance between her and another person she speaks to or does not know is less than two meters.
"However, I must say that indoors, even when I am at a greater distance, but there are more people in the space, I also always wear a mask, wash my hands and avoid gatherings such as celebrations," she said.
Commenting on the use of air conditioners, she pointed out that the directed movement and recirculation of air accelerates the spread of the virus.
"Last week, the WHO accepted the scientists' suggestion that the virus, unfortunately, is not be transmitted only with large droplets from human secretions. The danger is that the virus stays in the air in tiny particles that evaporate and are not affected by gravity."
Air conditioning can direct air from an infected person to an a healthy one.
Video:

Stevanovic: Influx of patients is great, appeal made on citizens to take care of themselves
(Telegraf.rs)