Here's how "road mafia" operates: Dangerous objects that endanger lives found on Serbian roads
These items are intentionally placed by some private towing services in order to gain material benefits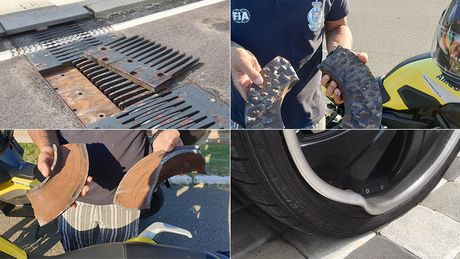 During the previous weekend, an Automobile-Motorcycle Association of Serbia (AMSS) team found dangerous objects in some roads in Serbia that directly endanger the lives of drivers and passengers, which had been intentionally placed there by certain privately-operated towing services in order to gain material benefits.
"As an institutional partner of the Republic of Serbia in the field of traffic safety, AMSS appeals on drivers to, if they notice such items on the road or become the victim of fraud, immediately inform the Ministry of Interior or AMSS directly," this organization said in a statement.
As they say, faced with the same problem in the previous period and in order to protect the lives of drivers and the reputation of its foreign partners, AMSS initiated criminal proceedings before competent courts against persons who caused cars to break down in the Republic of Serbia and falsely presented themselves as AMSS or its regional partners, in this way deceiving domestic and foreign nationals.
Dangerous objests deliberately placed on Serbian roads:
In order for drivers to be sure that they will receive adequate assistance on the road or to check whether a certain towing service is an authorized partner of AMSS, they need to contact the operations center by dialing 1987, where they can get all the necessary information and clear instructions on how to proceed, depending on the situation they find themselves in.
Drivers can act before experiencing such problems by joining AMSS, which prevents the possibility of such manipulations. In this way, this authorized organization takes care of drivers in Serbia and in the rest of continental Europe by organizing free roadside assistance, towing or on-site repairs so that they can continue their journey immediately.
The services of AMSS are available to all drivers 24/7 every day of the year, and roadside assistance arrives as soon as possible to any location in the country.
AMSS Secretary General Milan Nikolic said today that the so-called "road mafia" is abusing the holiday and travel season by intentionally causing accidents, and that people realize they had been deceived when it's too late.
"They place objects (on the road) so that cars would drive over them, and the same people who planted them appear as someone who solves the problem," says Nikolic.
He warned that these "fake roadside assistance" services then take vehicles to their facilities to charge for real or fictitious repair costs.
(Telegraf.rs/Telegraf.co.uk)