Dr. Kon: 15,000 people who returned from abroad are under supervision, we already have first cases
For now, no city is critical, the situation is stable but still uncertain because the virus is here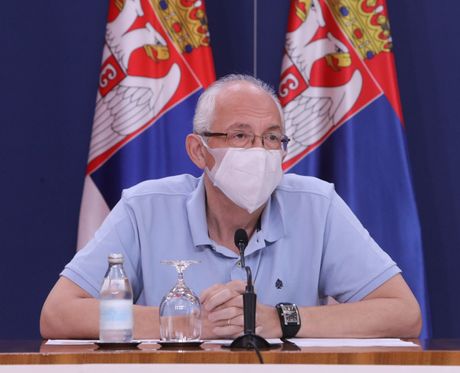 Dr. Predrag Kon, a member of the Crisis HQ for the fight against coronavirus, said this morning that 15,000 people who returned from Montenegro, Bosnia and Herzegovina (BiH), Croatia and Albania are already under supervision, and that we already have positive cases among them. As he pointed out, he received that information from a colleague in Novi Pazar.
He stressed that he would like the disease not to surge in October, and noted that no city is critical at the moment, but also that the epidemiological situation is stable but uncertain. As he says, the virus has not weakened.
At the very beginning of his appearance on TV Prva, Dr. Kon once again explained how the supervision system works, that is, how citizens register.
"Citizens who come to the border receive a warning stating that they should register through the electronic portal e-zdravlje.gov. rs. The personal number of the insured person from the health ID card and the number of the health ID card are requested on that portal, and then a self-assessment test is performed. With that, the obligation to report is over," explains Dr. Kon:
"What has become apparent so far is that we have more than 15,000 people under supervision, which is really good. So the system works. There's also the fact that we discovered the first positives through supervision. Yesterday, a colleague from Novi Pazar called me to tell me that," he pointed out and added that this is important not only for this moment, but also for later.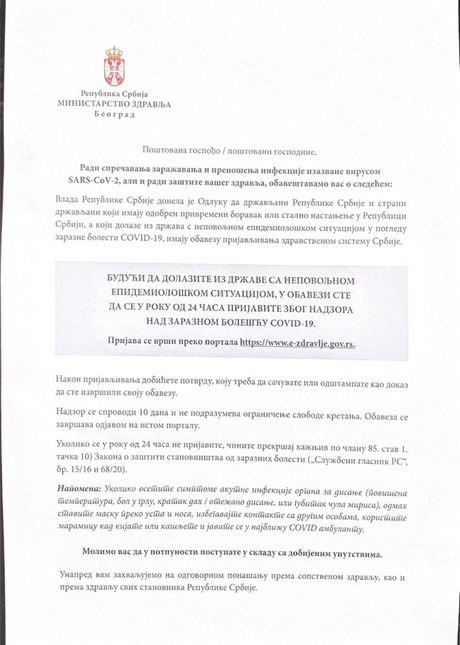 Asked if we have enough inspectors to monitor the supervision process, he said that is impossible, but that the system works like this:
"Through this system that has been created, a way of monitoring is feasible. Because, when a passenger reports to a Covid clinic, by providing the health insurance ID, information automatically appears about when they entered the country and that they are under supervision."
Unlikely that there's no virus in high schools
When it comes to coronavirus in high schools, Dr. Kon said that for now we have five cases in the whole of Serbia, one of which is in Belgrade. He expressed his doubts about this information.
"It is unlikely that there is no circulation of the virus in high schools, which means that cases are not reported or recognized, so I'm not sure how much the measures are respected. The goal is not to immediately detect 15 cases of the disease, the goal is to detect individual cases," he said.
Explaining whether he is generally satisfied with the results of the organization of school work, he explained that online teaching is not a solution because this will last much longer:
"It will take a couple of years until the situation with coronavirus is resolved. The arrival of the vaccine will not solve it either. In my opinion, this system is solid."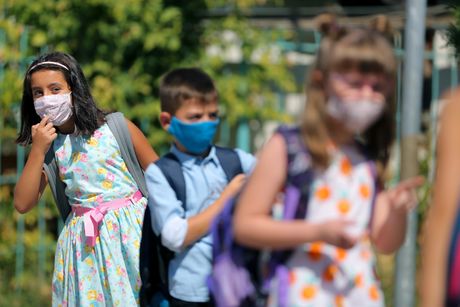 What awaits us in October?
Dr. Kon said that he would like the disease not to surge in October.
"But it will happen. We have imported cases, that is one thing, and on the other hand, the virus constantly shows us that it is here. When it comes to the measures, I don't know what else we could introduce, except that the existing measures are respected. Celebrations are a huge problem. I understand that, but for now we live as is," he said.
He added that it is inappropriate to tell people not to celebrate their family patron saint day (slava) but that a way will be found to conduct supervision there as well.
"The problem will be around the New Year. Then the arrival of people (to Serbia) will be like before Easter," he said.
He assessed the epidemiological situation as stable, but still uncertain, because the virus is still here. He stressed that we do not have a critical city right now.
Video:
Kon: Those returning from abroad should set aside 3 minutes to fill out the questionnaire
(Telegraf.rs)
Pošaljite nam Vaše snimke, fotografije i priče na broj telefona +381 64 8939257 (WhatsApp / Viber / Telegram).