"Difficult tasks are ahead of you": Vucic attends promotion of basic police training students
Participants of the 23rd and 24th class of the Center for Basic Police Training will join the ranks of the Ministry of the Interior today, after completing a nine-month course
President of Serbia Aleksandar Vucic today attended a formal ceremony promoting the 23rd and 24th class of students of the Center for Basic Police Training in the Teaching Center Makis. In addition to the president of Serbia, the promotion was also attended by Minister of Internal Affairs (MUP) Nebojsa Stefanovic.
Address by the president of Serbia
The president of Serbia addressed the participants at the Center for Basic Police Training to say that they have difficult, serious and responsible tasks ahead of them.
"I want to mention two things and point out to you, the first is that you have chosen an honorable and wonderful profession because you stood by your country, starting today you are the people taking care of your Serbia and there is no one who could say they care more about taking care of their country. That is why you are special," said Vucic and added that Serbia will continue to improve the living standard of MUP members.
He pointed out that it's the easiest thing to criticize the state in Serbia, because no matter how many roads and railways are built, or how much someone fails to pay taxes, it's always easiest to be against the state, while members of the police are always with their state.
"You will always have to put up with it, citizens will always trust you, but you will not be the favorites," said Vucic.
He stressed that it is up to the state to help makes sure all of them are proud of themselves and provide a better life.
Vladimir Rebic, the director of the police, presented the decisions on rewarding the most successful students of the 23rd and 34th class.
Nebojsa Stefanovic welcomed the students and said that this is a special job that guards peace and stability in the country.
"I am proud because a police officer is respected in Serbia today. And that is why I want to thank President Vucic who provided and continues to provide support to the police," said Stefanovic and added that the participants now have the opportunity to show that they are the right choice for this job.
"When I look at these lines, their colleagues who protect the citizens of Serbia every day, the first word that comes to my mind is trust. That is why I thank you for choosing to serve your people," the minister pointed out.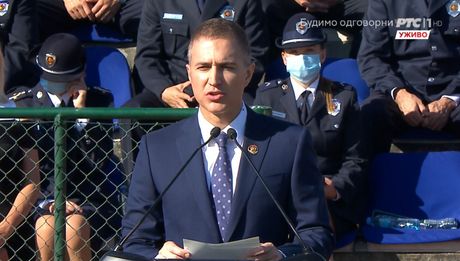 The participants in the 23rd and 24th class of the Center for Basic Police Training will join the ranks of the Ministry of Internal Affairs today, after completing a nine-month course, the Ministry of the Interior announced.
As announced yesterday, the promotion of new police officers will take place in the presence of their senior colleagues from special police units - the Police Brigade, the Gendarmerie, Intervention Unit 92 and the MUP Helicopter Unit.
They will also perform several exercises.
(Telegraf.rs)