Saddest and most beautiful photo from Novi Sad fire: A policeman and the terrified puppy he rescued
The puppy looked very frightened, but in safe hands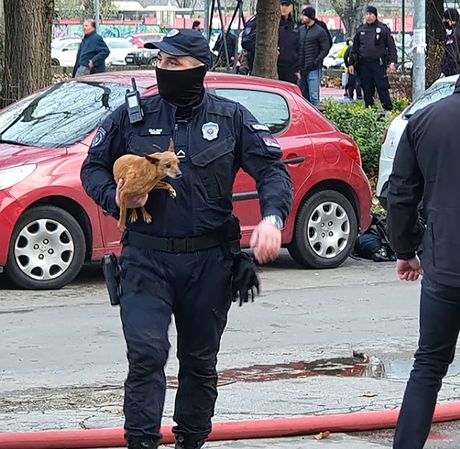 Novi Sad police officers did not allow today's large fire on the 13th floor of a building to claim any victims.
They saved people, but they also did not forget a dog, who was trapped in the fire and smoke, NS Uzivo reports.
A policeman could be seen in front of the scene of the fire, jumping over a fire hose, carrying someone's pet in his arms...
The puppy looked very frightened, but in safe hands.
A large number of people and police officers gathered in front of this building. The fire, meanwhile, had spread to the 15th floor.
When an apartment catches on fire, especially on high floors, the priority is to save people. But, not only does everything we have in the apartment usually burn down - our valuables and dear things, memories, work, everything that made up our life, pets also often suffer.
They too become the victims of fire.
(Telegraf.rs)