Tiodorovic: A girl born in 1993 has died from Covid. Isn't that terrible?
"We can think about a more serious relaxing of measures in the spring," said Professor Dr. Branislav Tiodorovic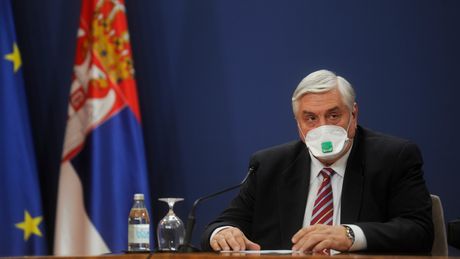 Professor Branislav Tiodorovic, an epidemiologist and a member of the Crisis HQ for the fight against coronavirus, said this morning that there had been no disagreement at the session yesterday about the measures for the New Year's holidays. He expressed fear over private parties, which will be organized to celebrate New Year, and called on everyone to be aware that it will be their turn, too, but the question is whether they will have a bed in the hospital. He then said that a girl who was born in 1993 had died.
"That's a difficult question, but we always have to find the answer. We have another difficult situation, although at first glance it seems that the numbers are positive, the sick and even the deceased are fewer. It's important to protect our health, and the health of all of us, to take care of where we are going. This time, however, we have to celebrate the New Year in a different way, and say goodbye to the old one, which was difficult, too difficult, and to expect to be healthier in the New Year," said Professor Dr. Tiodorovic.
He said that during yesterday's session there had been no disagreements about the opening hours of hospitality establishments for New Year's Eve.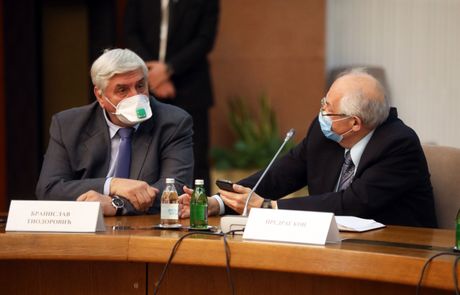 "I can point out with pleasure to what I said during the conference on Friday that I expect that we will be in agreement, that is, that there will be no New Year's Eve celebrations, no repeats in the following days. And we should think about that, so that January 1 doesn't turn into what we would not want. That means fewer contacts. However, we agreed that cafes and restaurants will be open until 6 pm on December 31 and January 1, and that all services, stores, cafes, restaurants will be open until 8 pm... All this is valid until January 11, when we will reassess the situation," says Professor Tiodorovic.
No disagreements behind closed doors
According to him, there have been no stances behind closed doors that would contradict what the medical part of the HQ had asked for.
"I am pleased to point out that even those who were firm in their positions because of the economy did not publicly oppose it. I see that the media tried to stress that there had been disagreements, but that did not happen. There will be no organized New Year's Eve celebrations, the only thing that scares me and my colleagues now, is whether those private parties might be a big risk," he said.
Aware that they will happen, he said that those who organize them and who go to those parties should think it through, and that it will also be their turn (to get sick) but the question is whether there will be beds in hospitals.
"Will we be able to hospitalize everyone who needs it? The other day a girl born in 1993 died. Isn't that terrible? We have young (infected) people. Over 60 percent of hospitalizations are those who are in the workforce. Among the dead, over 72 percent are older. Do young people think they are safe? For me, it's an important fact when a person born in 1993 dies," he said.
If there are parties, he pointed out that after January 15 or 20, we will have a coronavirus wave that will not be less fierce than this one:
"I guarantee that there is no one that has not had, either in their family or surroundings, someone who has gotten ill and even died from coronavirus."
Asked why the Crisis HQ is meeting every two to three days, he explained that the reason lies in the very large strain on the healthcare system.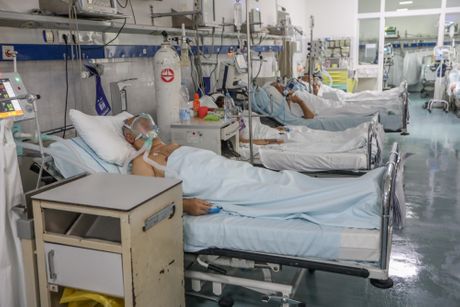 "We are in contact with the medical HQ several times during the day. You are right, people want more optimism. This is not the time for that. Let's be patient now, let's endure this so that we can celebrate the next holiday season as we should," said Professor Dr. Tiodorovic.
It's not my turn yet to get the vaccine
He said that the curve is in a slight decline, but the number of deaths, which is at a high level, is still worrying.
"Hospitals are still a big problem for us. There is still pressure in Belgrade, the situation is a little better in the rest of Serbia. This tendency is not yet what we would like to see, we must be careful,"said Professor Dr. Tiodorovic.
He is convinced that we have a collective immunity of more than 30 percent.
"I hope that with vaccination in February, we will have about 40 percent, so we can think about a more serious relaxing of measures only in the spring. Then we can think that we are on a green branch and that we are returning to the life we knew before this," he said and added that he has not received the vaccine yet, because, as he said, it is not his turn yet.
Video:
Tiodorovic warns hoteliers on Kopaonik and Zlatibor mountains
(Telegraf.rs)
Pošaljite nam Vaše snimke, fotografije i priče na broj telefona +381 64 8939257 (WhatsApp / Viber / Telegram).