"New Year parties could endanger up to 100,000 people and at least 10,000 will have to get help"
According to the epidemiologist, at least 10,000 people will have to receive help
Epidemiologist Dr. Branislav Tiodorovic told a press conference that members of the Crisis HQ understand the need of our people to see off this year that we will remember for a long time in every respect, but that young people must be aware of what can be the consequence of one night, the New Year Eve celebration, at a time when there is no built up collective immunity in our country.
"Young people must think about what awaits us, if private parties are massive, if there are 50 people in one place, times 1,000, you already have before you those numbers are - 50,000 to 100,000 people will be endangered," stated Tiodorovic.
He added that this means that at least 10,000 people will later have to get the necessary help.
"Well that's terrible pressure, and it doesn't have to be that way. We all want to celebrate the New Year in the best way - happy and joyful. The only thing I can wish to everyone at this moment is to be really happy, healthy and ready to preserve the economy and the healthcare system in the coming year," said the epidemiologist.
Dr. Ivo Udovicic, a colonel with the Military Hospital Karaburma, also appealed on citizens to stay at home for New Year's Eve, as well as for customary "repeat" celebrations on January 1.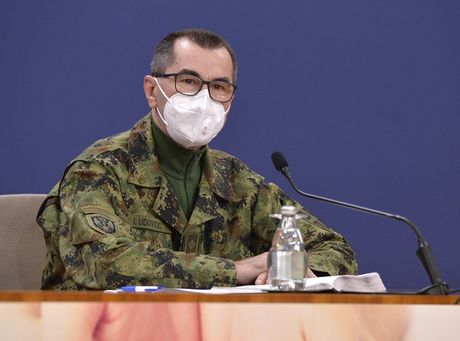 "As for the celebrations are concerned, I have nothing against that, but be careful if you are in doubt whether to stay home or go to a crazy party... You will enjoy it for 3, 4 hours, but you can regret it for the rest of your life. That is why my suggestion is - stay home," said Dr. Udovicic.
Members of the Crisis HQ also commented on daytime parties, which are one of the biggest risks for getting infected with coronavirus.
"Everyone thinking about organizing parties in restaurants and hotels... I'm telling them they will not. At any price - they will not. Let them refund the money in time if someone has already paid. It won't be possible because the healthcare system would not be able to withstand those parties of theirs. The law is clear, we will have enough communal inspectors and police. Gentlemen, there will be none of that this year. Everyone will be kicked out of the bar after 5 pm, if the are found there," Minister of Health Zlatibor Loncar pointed out and added that they already received reports about who plans to organize daytime parties and where, stressing that this will not be tolerated.
"The consequences are the same and fearsome - both of the day and night parties," Dr. Tiodorovic stressed.
The minister also stated that 9,366 patients are currently being treated in Covid hospitals in Serbia.
Video:
The last conference of the Crisis HQ in 2020: 3,136 patients in Serbia, 46 deceased
(Telegraf.rs)
Pošaljite nam Vaše snimke, fotografije i priče na broj telefona +381 64 8939257 (WhatsApp / Viber / Telegram).