We learn: Life returning to normal in Serbia from June, but certain conditions must be met for that
At tomorrow's meeting, a detailed analysis and cross-section of the situation will be done, and decisions will be made based on that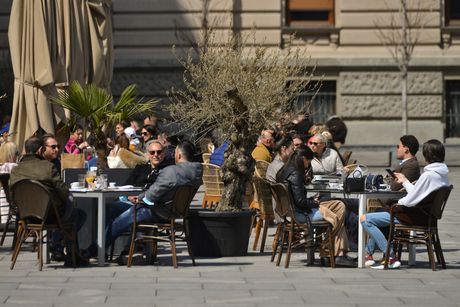 The meeting of the Crisis HQ for the fight against coronavirus will be held tomorrow starting at 3:30 pm in the Palace of Serbia, and as Telegraf.rs has learned from the Crisis HQ, the measures are not expected to be relaxed tomorrow, but it will be announced that this could happen starting on June 1, if several conditions are met.
A Telegraf.rs source from the Crisis HQ says that we have to wait a few more days to see the movement of new daily cases and that if the numbers start falling below 1,000 again, as was the case two days ago, then we can think about bringing life back to normal from June.
"It is likely that the data will be moving like it is now. It's possible that tomorrow we will announce that from June we could start with some gatherings, then increase the allowed number of people indoors, start with music festivities, sporting events... But, it all has to come with a condition, with strict implementation of existing measures and, more importantly, with vaccination on a much larger scale and in a much shorter period time," said our source.
On May 8, the number of new daily infections dropped to 1,056, and the next day, May 9, it fell below 1,000. We had 834 positive cases in 24 hours. The next day, we had less than 1,000, and already on Tuesday, May 11, there was a jump to 1,125. Yesterday, May 12, the number was 1,046, which may be the consequence of the recent holidays - Orthodox Easter and May Day.
Minister of Health Zlatibor Loncar said today that a detailed analysis and cross-section of the situation will be done at the meeting first, and that decisions will be made based on that. Replying to journalists, he said that the meeting was moved from the beginning to the end of the week in order to see the new cases numbers after the Easter holiday, considering that the measures were not respected as much and people socialized and gathered more.
"I plead with everyone not to come out with some premature announcements and expectations, because by doing that we are only creating confusion among citizens and announcing some measures, then there's guessing whether or not it will happen... I would ask everyone to be patient and wait for the data analysis tomorrow," said Loncar .
A previous meeting of the Crisis HQ decided that indoor hospitality establishments could reopen, respecting all measures and without music, and stay open until 10 pm, while the ban on gathering of more than five people remained in force.
(Telegraf.rs)