"North Macedonia and Albania already import 30% of their electricity. We won't go there"
The president of Serbia was on a two-day visit to Skopje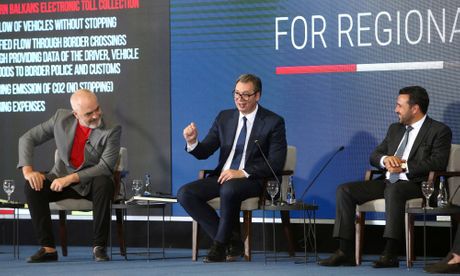 A large regional economic forum was held in North Macedonia, which was also attended by the president of our country, Aleksandar Vucic.
Among a sea of topics and the OPEN BALKANS initiative - the new name for Mini Schengen - he also touched on the topic of electricity, i.e., the import of electricity and dependence on other countries in that sector.
"We need a little more, so we will import electricity. Is that what you want, guys? In order to be telling people how 'green' we are, we will pay hundreds of millions of euros for that electricity, which we will take out of our own pocket," the president said and added:
"North Macedonia and Albania already import 30% of electricity each. That is why everyone else wants to drag us into those scissors, so that we all depend on others."
When it comes to Rio Tinto, Vucic said that "it is time for the people in Podrinje (a region in Serbia) to slowly get acquainted with what can be done, what is not, what to expect, good and bad."
"Then let the people decide, rather than obey decisions from Belgrade. Let them earn much more for the first time than those in Belgrade. We will tell them what is bad, but also what the huge benefits are," he continued.
Vucic revealed that yet another German company is interested in doing business in Serbia, where it plans to employ 300 people. "That policy of attracting investors is a policy that brings you growth and stability," he added.
"The best money is always invested in factories, which have a secure market," said the president, and added that the problem in Vranje should be solved soon. "I am going to Vranje by September 15, by then the solution for the people in Vranje will arrive," he said.
Video:
Vucic, Zaev and Rama: Three agreements for better regional cooperation
(Telegraf Biznis)