"You Serbs are crazy": Instagram's biggest football account "443" admin fascinated by Belgrade derby
"I was filming the celebration and a rocket flew past my head, really crazy!"
The 165th "Eternal" i.e., Belgrade football derby between Partizan and Red Star is behind us, and although these two clubs ended up sharing the points in a 1-1- draw, both groups of fans deserved only words of praise. There was a special guest at Partizan's stadium in Humska Street - Alexey Gurkin, the administrator of the Instagram account "433" which has more than 40 million followers, and who later spoke about the thrilling atmosphere.
Everyone who loves or just follows football wants to see the "Eternal Derby" in person, feel the atmosphere created by Grobari (Partizan fans) and Delije (Red Star fans) cheering their teams on, and it has become an increasingly common practice for various YouTubers and other internet celebrities to come here and record their impressions directly at the stadium.
This time, Partizan went a step further, and hosted Alexey Gurkin, the administrator of the well known sports account on Instagram "433" - one of the best, if not the best in this category.
Alexei, who comes from Russia, told Telegraf that he is in Belgrade for the first time.
"This is my first time in Belgrade, I am very excited about the city and the country. I'm from Russia, so I heard a lot of good stuff about Serbia. I'm here for the second day and everyone is very nice."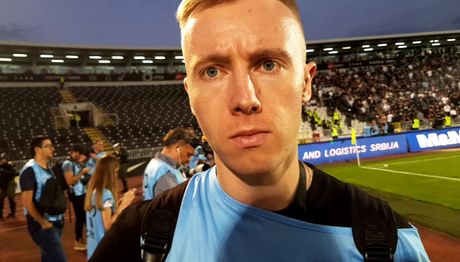 However, the reason for his arrival is not a tour of the city, but experiencing one of the biggest "feasts" in Serbia - the football match between Partizan and Red Star, that left him thrilled.
"It's madness, you know, it reminded be a bit of old derbies in Russia between Spartak and CSKA, but from 15 or 20 years ago. Now, in Russia, the fans are not as active as here," said Alexei, and then continued:
"The first half, the whole time, shouting, supporting, it's very good, very emotional... After the first goal, I was recording the celebration and a rocket literally flew past my head, really crazy!
At half time, Partizan was up 1-0, however, as Alexey said, the support did not stop on either side. Because of that, he could not decide whose fans are better.
"I think that both do a great job. I'm pretty sure, if you stand near them you'll hear amazing support, the way they support their team... It's absolutely amazing to play in front of this support. If I was a player I would give it my 200 percent."
Finally, Alexei deduced that Serbs are "crazy guys" - and that this kind of game is "unique."
"The 'Eternal Derby' is really unique. You Serbs are crazy guys," Alexey concluded his chat with Telegraf.
Video:
Red Star scores, Degenek clashes with the entire Partizan bench: Stevanovic and Markovic the most belligerent
Video:
Natchos missile into Borjans corner: Partizan takes lead in the derby, Red Stars goalkeeper was badly positioned
(Telegraf.rs)
Pošaljite nam Vaše snimke, fotografije i priče na broj telefona +381 64 8939257 (WhatsApp / Viber / Telegram).