Torture camp organizers arrested on Serbia-North Macedonian border, 2 flee to Serbia
The case was discovered after one of the victims, upon arrival in Vranje, Serbia, reported to the authorities that a group of smugglers was physically, mentally and sexually abusing, blackmailing and starving dozens of their compatriots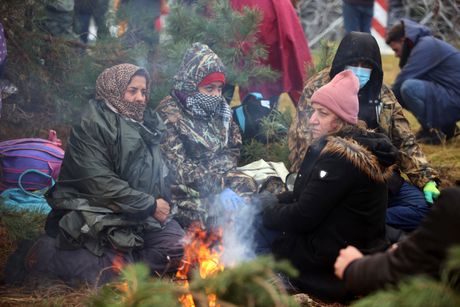 After torture camps were discovered a few days ago on the border between the two countries in a large-scale operation launched by the authorities in Serbia and in North Macedonia, North Macedonian police managed to arrest four organizers, while two fled to Serbia, Vilma Ruskoska, North Macedonia's basic public prosecutor for organized crime, has told Nova.
The case was discovered after one of the victims, upon arrival in Vranje, Serbia, reported to the authorities that a group of smugglers from Afghanistan and Pakistan was physically, mentally and sexually abusing, blackmailing and starving dozens of their compatriots, after which senior public prosecutor in Vranje Danijela Trajkovic informed her North Macedonian colleagues about it.
"Preparations for the operation lasted a little over a month, and we started the investigation as soon as we received the case from Serbia," says Vilma Ruskoska.
According to her, the abuse was not taking place in existing facilities, but in improvised tents, hidden in the mountains, in highly inaccessible terrain. It is a region called Toptel, above the villages of Lojane and Vaksince.
"The operation had to be carried out from helicopters due to the highly inaccessible terrain, special forces were droppped in. Special forces were deployed from both the Serbian and the Macedonian side, and they worked in coordination with the Macedonian National Unit for Combating Human Trafficking and their colleagues from Serbia," says Ruskoska.
35 migrants were rescued from torture, including children. They are now in reception centers.
"Light is being shone on the case, how they were beaten, photographed and had the photo sent to their families asking for money, they were not allowed to eat, they were abused..." the interlocutor explains.
An investigation has been launched against two adults from Pakistan and two minors from Afghanistan on suspicion that they committed the criminal act of organizing this group and inciting to commit acts of trafficking in human beings, minors, and smuggling migrants.
From August until November 2021, they set up improvised camps where they accommodated migrants who had entered Greece illegally, and then illegally transported them from there to Serbia and EU countries.
The accused would detain their compatriots against their will, confiscate their phones and personal documents and prevente them from making any contact outside the camp. The helpless persons were mistreated, photographed and had the photos sent to their families to extort money for their release, with violence and threats.
"They were treated in an extremely cruel and humiliating way, and had illegal sexual acts were committed against some of them," a statement from the Prosecutor's Office for Organized Crime said.
Video:
Migrants occupy border: Between barbed wire and police
(Telegraf.rs)
Pošaljite nam Vaše snimke, fotografije i priče na broj telefona +381 64 8939257 (WhatsApp / Viber / Telegram).