Vucic: I'm going to Brussels to try to preserve peace
I would not like to comment on the European External Action Service (EEAS) statement, it's best that way - said Vucic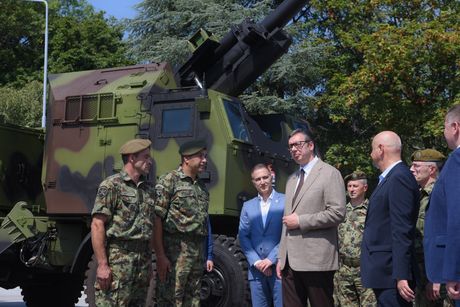 Serbian President Aleksandar Vucic said today that he is going to Brussels for another round of the Belgrade-Pristina dialogue in order to try to preserve peace and stability, stating that this is his goal.
Asked to comment on a statement issued by EU's External Action Service, which "equalizes the guilt of both sides when it comes to rhetoric," Vucic said that he had no comment.
"It's best that way," said Vucic.
He added that he is going to Brussels for the dialogue scheduled for August 18 in order to preserve peace, stating that Serbia does not threaten anyone, and that he wants to ensure compliance with the rules, international public law norms, from UN Security Council Resolution 1244 to the Brussels Agreement.
"These are agreements that are valid and they must be respected and applied," said Vucic.
Asked by journalists at the Military Academy where he attended a display of weapons, he confirmed that before the meeting in Brussels he will also speak with NATO Secretary General Jens Stoltenberg, and probably with US envoy Gabriel Escobar.
"I don't know what to expect (as far as the topic are concerned). We are interested in discussing everything. We don't have a problem with topics. We want to talk about the Community of Serb Municipalities (ZSO). If they say that is not in accordance with the constitution, then we don't want such a ZSO that is in accordance with the constitution, because such a community can be formed by any citizen. Why would we be interested in their constitution...," asked Vucic.
As for Pristina's decision regarding Serbian license plates, the implementation of which has been postponed until September 1, the situation is clear, said Vucic, and added, "unless someone wants to enforce something by force."
"It can only be done by force, but don't expect Serbia to help you in legally regulating the problem," said the president.
Vucic said that Serbia wants to talk, and whether these talks will make sense, he says, will be seen in two or three days.
When asked whether Albin Kurti is intensifying his rhetoric towards Belgrade due to internal problems, bearing in mind the power cuts now being introduced there, Vucic said that he did not want to comment on that.
"I hope they won't have to turn off electricity, because it would be bad for them, for us and all the people who live there. It's a lot of money. Electricity can be bought on the market, but the question is who can pay for it. The question is whether he made a decision not to take on additional debt, or whether he has no money," Vucic noted.
Vucic said that it is not easy because the price of electricity today is higher than 430 euros, and when it is bought for the winter, it is more than 1,000 euros per megawatt hour.
In our country, one megawatt hour is paid 40 euros, which is 25 times less, and he added that the question is to what degree one entity, or a state, can take on that burden.
"We still have money, despite the countless problems that arise on a daily basis related to electricity. For now, we are managing. We have enough money to not jeopardize the level of public debt in any way," said Vucic.
(Telegraf.rs)
Telegraf.rs zadržava sva prava nad sadržajem. Za preuzimanje sadržaja pogledajte uputstva na stranici Uslovi korišćenja.