Vucic on Kosovo and Metohija incidents, from Tirana: Good there's no victims, we're facing difficult period
"We spoke more openly than ever," says Vucic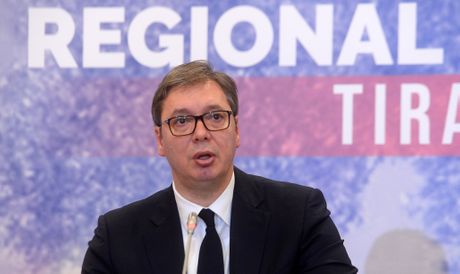 President of Serbia Aleksandar Vucic was in Tirana yesterday, where he was participating in the summit of the leaders of the European Union and the Western Balkans.
"We spoke more openly than ever, I am satisfied that I had the opportunity to hear everyone else. I could see what everyone else from the Western Balkans was saying, I think it was good that we were present in Tirana," Vucic told the press.
Responding to questions, Vucic stressed that he was aware of the latest developments in Kosovo and Metohija (as of Tuesday afternoon), pointing out that people in Pristina once again behaved contrary to the Brussels Agreement.
"Because of their decisions and non-compliance with the Brussels Agreement, today they sent armed policemen to the north again. I just wonder which day something will happen that can disrupt security and peace. For now, we don't have information about any victims, and it's good that this is so. We will do everything to preserve peace," said Vucic.
Regarding the latest French-German proposal for Kosovo and Metohija, Vucic said, "we are ready to talk, as long as it's known what our red lines are."
"I had special bilateral meetings with Giorgia Meloni, with Mark Rutte, Alexander Decroo, I had long talks with Macron, Orban, with most EU representatives. We spoke about a lot of topics, a lot is ahead of us. Of course, energy was dominant, and it goes without saying that we were the subject because of not introducing sanctions (against Russia). Everyone agreed that I was honest, I said what I say to our people. I spoke in plain language, the truth, realistic arguments, showed documents, and pointed out the facts," said the president of Serbia.
 

View this post on Instagram

 
Speaking about the declaration on introduction of sanctions against Russia, Vucic said that the fact is that Serbia has not imposed them.
"Now it's calm, I'm waiting for reports, the Kosovo police can only come (to the north) with the consent of the four mayors, they didn't ask Kfor either, apparently," Vucic said when asked about the incidents in Kosovo.
"It's important to preserve peace and stability, and thanks once again to the hosts in Tirana, I believe we will see each other soon in Belgrade," said Vucic.
(Telegraf.rs)
Pošaljite nam Vaše snimke, fotografije i priče na broj telefona +381 64 8939257 (WhatsApp / Viber / Telegram).