SCANDAL: Shameful scene of the grave of Tose Proeski, fans in disbelief, no one expected this (PHOTO) (VIDEO)
It has been almost 10 years since the tragic death of Tose Proeski, and the legendary singer still rests in the tomb with no tombstone, wrapped in plastics, placed on an artificial carpet, the earth on the grave continuously sinks, plastics coming out on all sides, Macedonian fans of this angel in disbelief
It will soon be 10 years since the death of Tose Proeski, and his eternal rest, which is deteriorating, doesn't even have a tombstone.
They asked Balkans if the dissolution of Yugoslavia brought more damage than benefit, the answers are largely identical!
The tomb of the Macedonian music star is on Gumenje above his hometown of Krusevo. Tose still rests in a makeshift grave covered with carpet of artificial grass in which a wooden cross is placed with his name, date of birth and death.
The tomb is paved with blocks, which are collapsing and singking, a makeshift metal construction is covered and surrounded by plastic and nylon.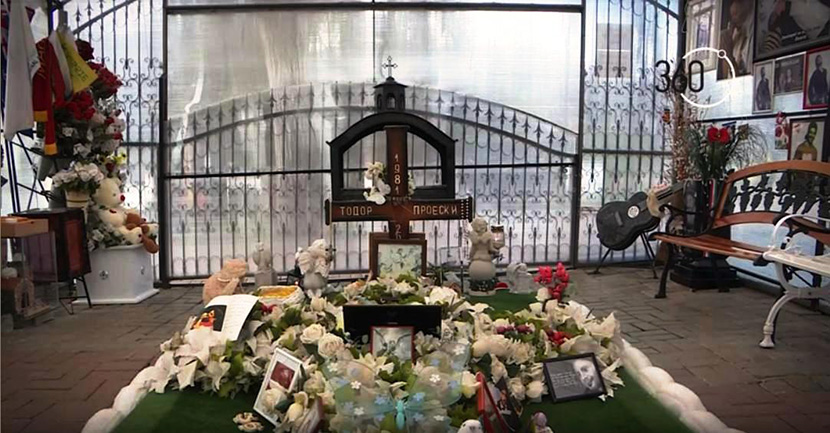 We found such an image five years ago when we visited his grave, and now the same, if not worse, and we were spotted by the crew of show 360 degrees Skopje AlsatM television.
- Put a little artificial grass to cover here. Give me a pair of plush heart to "mend" gaping. You put this aside, i will put this here to cover the deteriorating - this conversation was lead between three people who were maintaining and guarding the grave of Tose Proeski. That became harder and harder, because the ground was sinking, and the pavement blocks and metal construction were giving in.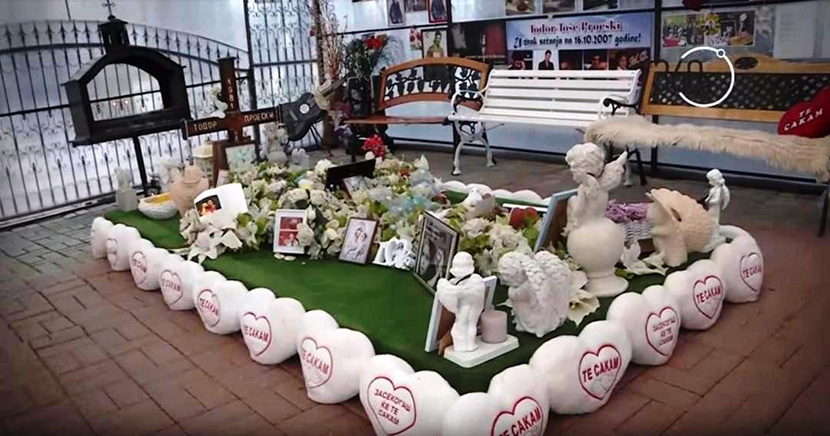 - What can we do? We have been here on this place since 2007. We welcomed and greeted many people, everybody brought flowers, soft hearts, dolls, teddy bears... We are arranging that, but some things can't be patched with gifts. The body of Tose Proeski is covered with earth that is constantly sinking, and it is covered with carpet with artificial grass. Blocks are falling, construction is giving in, everything is falling apart - said Ratko Trajcevski sadly, one of the people responsible for guarding and maintaining the grave place.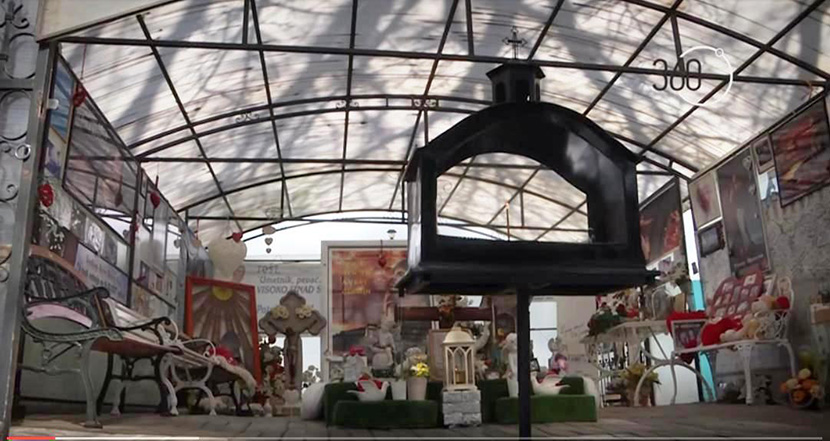 "If he saw where he is, he would turn in his grave", one of the fans of Macedonian singer interrupted us and walked out disappointed.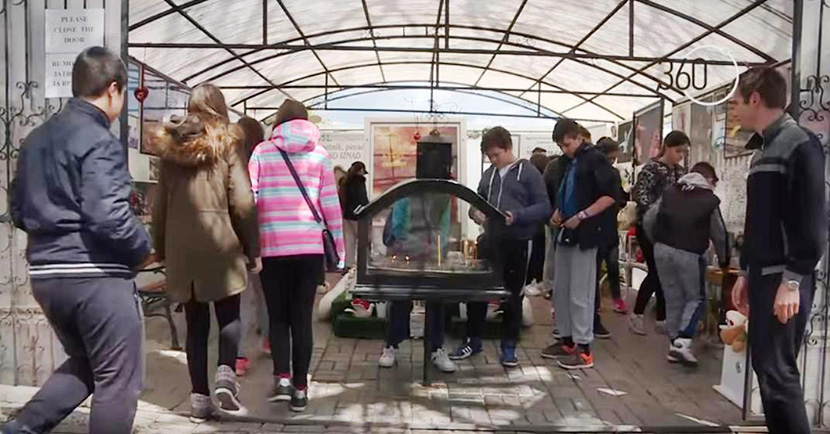 Not a year has passed since his death, in 2008, Macedonian government came to a decision about building a memorial to him, who has been proclaimed an honorary citizen of Macedonia after his death. With funds from the budget, the monument was supposed to be finished in two years. Since then it has nearly a decade has passed, and Tose still rests in the tomb in which no gravestones.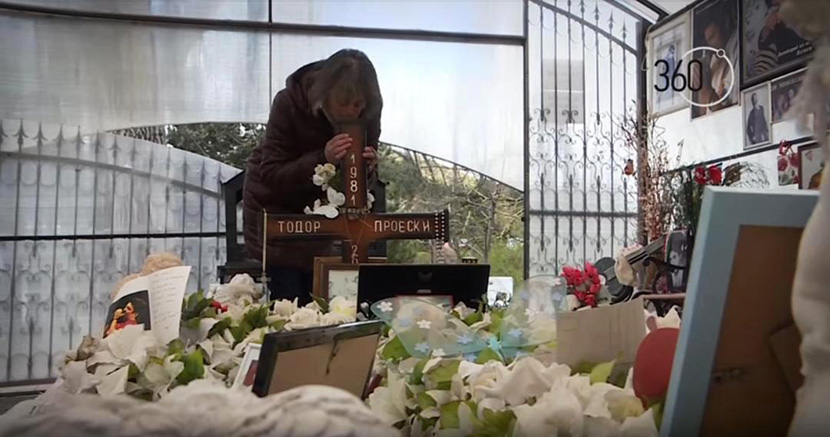 AlsatM television tried to get an answer why is it like this, but encountered a wall of silence in public institutions and the Foundation Tose Proeski. Hardly anyone in Krusevo wants to speak on this subject because of partisan divisions in the city.
The makeshift grave was covered and surrounded by plastic, to keep the wind from blowing out the objects fans have left on the grave.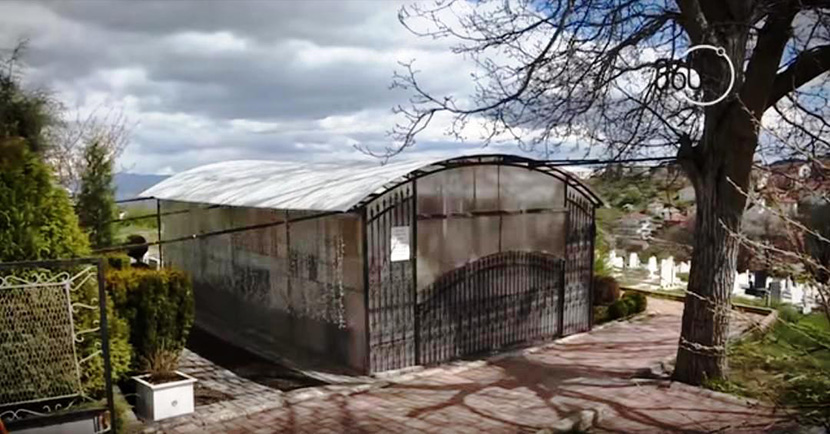 Daria Ilic from Slovenia, one of the biggest fans, already learned how to deal with this, as she named it "kingdom of love and memories". She spends two months every year, watching the grave in Krusevo, and she noticed that it is deteriorating and that the things people leave on the grave are breaking. - It is nice to see how much love people bring with them and the things they are leaving on the grave, but its not ok to look so neglect. First the grave should be fixed, and then his memorial, which is truly majestic. A decent resting place should be finally built so the hole in their parent's hearts could finally close - said Darija for the show "360 degrees".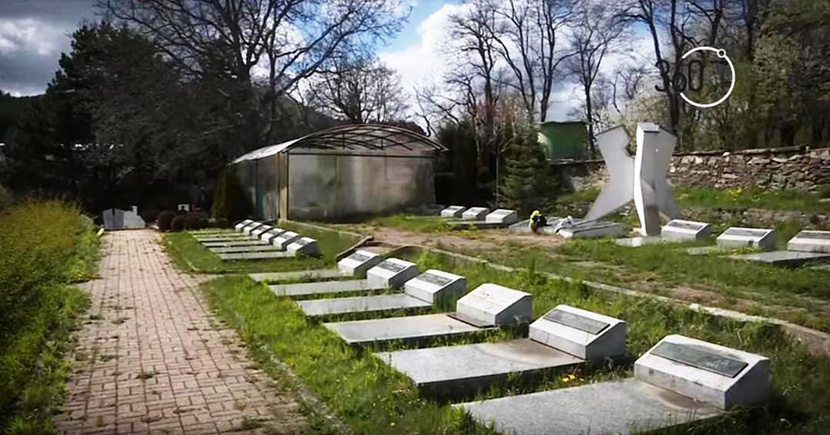 According to the preliminary ruling issued by AlsatM television, the Gumenje was supposed to have a memorial to Tose Proeski, that stretched from the plateau near his memorial house, all the way to the grave site. The building was supposed to have a dome, church, fountain, walkways, stairs and lots of flowers. Memorial was to be built by 2012, but nothing was regulated ever since. Meri Gadzovska Stojanovska, a member of the fan club of Tose Proeski, says fans should be activated to make a worthy tomb of the Macedonian music star, but the government did not allow that, not even his family. Fans should have made pressure by now on the government to finally make a memorial for Tose fitting of an "angelic, flawless soul." Near the eternal resting place of Macedonian singer a Memorial House of Tose Proeski was erected. The building is in the shape of a cross and it was opened on 25 April 2011, and at 870 square meters a large number of photos and 350 exhibits are exposed, which materialize the entire life time of Tose Proeski. His entire life has been chronologically displayed in the memorial. From the childhood to teenage days and the period when he became a star. There are two wax figures in real size. One of him singing and one of him playing. There is a prayer site in the center of the memorial house with religious objects Tose owned and writings of his thoughts and life philosophy. There is a music studio where Tose composed, and the living room, transferred from his home in Skopje. One of his favorite cars is displayed in the yard, "Volkswagen beetle", and the environment with the amphitheater is intended for the visitors to rest, and they can write messages on the wall for his idol. Tose Proeski was born on January 25, 1981, and died on 16 October 2007 in a serious car accident near Nova Gradiska in Croatia.
Monastery of the Holy Transfiguration is being raised above Krusevo. Tose Proeski takes most credit for its construction.
- This is where i find my inner peace and i know that i will finish here at the end - said Tose on one occasion.
(Telegraf.co.uk / D.J.)
Telegraf.rs zadržava sva prava nad sadržajem. Za preuzimanje sadržaja pogledajte uputstva na stranici Uslovi korišćenja.