ALL YOU SHOULD KNOW ABOUT THE DRAW OF THE EUROPA LEAGUE: While we are waiting for news from Nyon, chose your rivals for Red Star and Partizan using the balls simulator!
The draw will be held at 13:00! Right after the one for the Champions League
Partizan fans have been waiting for this moment since 2005 while Red Star fans waited for entire 25 years for their team to be in the draw for the knockout phase of a European Championship.
Boakye is crying, Donald is kissing him: The most emotional moment of Red Star players after qualifying for the knockout phase
And they have awaited it! The destiny brought Serbian teams in one pot, but a weaker one.
However, that doesn't diminish the success the eternal rivals made this season in the group stage of the Europa League. The second place behind Dinamo and Arsenal has placed them into the pot two where there are four worst third-placed teams eliminated in the group stage of Champions league and second placed teams from Europa League.
That means that Red and Black and whites will play against the first placed teams from the groups, and four better third-placed teams which came from the Champions League. To recall, they can't play with the teams they already played in the group.
Let's recall the pots: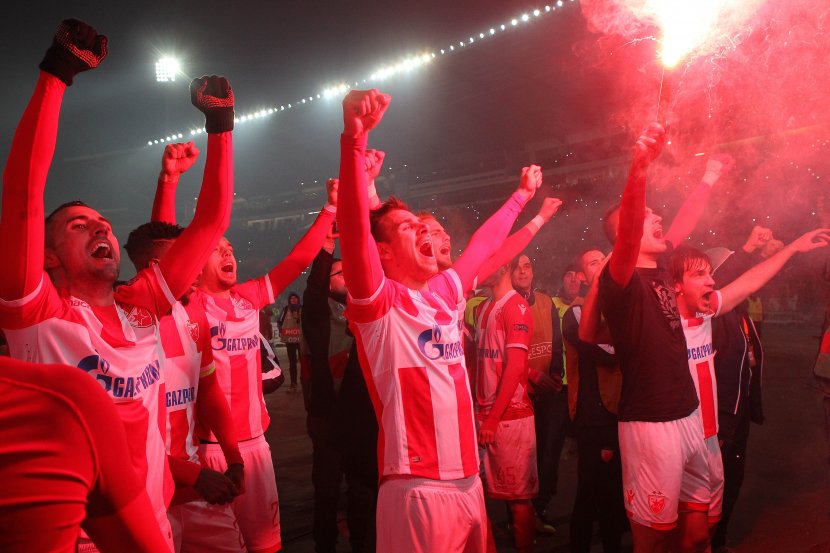 Pot 1: CSKA Moscow, Atletico Madrid, Sporting, Leipzig, Villarreal, Milan, Arsenal, Lazio, Dinamo Kiev, Braga, Atalanta, Lokomotiva, Victoria Plzen, Salzburg, Bilbao, Zenit.
Pot 2: Celtic, Spartak Moscow, Napoli, Borussia Dortmund, Nice, Partizan, Red Star, Astana, Ludogorets, AEK, Lyon, Copenhagen, Steaua, Marseille, Ostersund, Sociedad.
- To make a joke, I would like to say, they should be scared of us - said Vladan Milojevic before the draw.
- I don't have some special wishes - Djukic was clear.
First games will be played on February 15th, while the rematch is 7 days after.
We will give you the simulator so you can participate as well.
All you need to do is click >>>HERE<<< and to chose opponents of Red Star and Partizan in the knockout phase. A draw will be held one hour before for the Champions league.
Everything is clear there - first places are waiting for second places from the group stage and they can't play against the team from the same country, and the team which was in the group with them.
First pot: Besiktas, Manchester City, Liverpool, Manchester United, Tottenham, PSG, Roma, Barcelona
Second pot: Chelsea, Juventus, Shakhtar, Bayern, Porto, Sevilla, Basel, Real
Pošaljite nam Vaše snimke, fotografije i priče na broj telefona +381 64 8939257 (WhatsApp / Viber / Telegram).