Everyone cried, we apologize to Serbia, I was playing like sh*t: Emotional Bjelica on China debacle!
It was stormy after the defeat at the hands of Argentina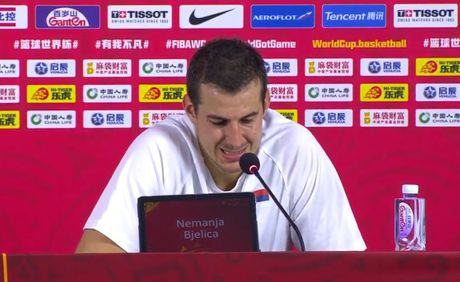 Nemanja Bjelica was honest after Serbia's squad was defeated by Argentina in the quarterfinals of the FIBA Basketball World Cup.
The Eagles were completely outplayed by the Latin American team - after at one point being the favorites to win the tournament.
"I would like to say a lot, but I will try to keep it short. A difficult defeat for our team. I would like to apologize to our people who believed in us. We also believed, we have a very good team, but you know how it is... This kind of tournament means nothing. We may be better than Argentina, but they showed us and they wanted this win more than us at this point. We were not ready for this match, we take full responsibility," said Bjelica.
"We are a team, but we take responsibility. I can say that I played like sh*t, when we saw them celebrate... Everyone was crying, they deserved to win today. We're a good group of guys. We didn't lose because we are arrogant. We were not mentally prepared for this match. I can talk for hours, but this defeat is very difficult. It's killing us. We invested a lot into this summer, it's hard, but that's basketball."
Bjelica didn't stop there, either.
"Also, the most important thing, one of our players played, even though he just lost his mother. There are many things more important things basketball. We are good people, a great group of people, we wanted to win, but we tried to win the wrong way. We were the favorites, but the quarterfinal games in particular are such that you have to be prepared. Maybe our group was too easy. We didn't underestimate anyone, we had a bad day and now we have to prepare for other games. We came here as a team, maybe, we wanted this in the wrong direction, I'm not going to say because of pressure, because we know we can handle it. But we didn't."
Watch a video taken with ultra-wide angle camera on Motorola One Action.
Jokic's brother went crazy when Nikola was sent off; he wanted to run into the court
(Telegraf.rs)
Pošaljite nam Vaše snimke, fotografije i priče na broj telefona +381 64 8939257 (WhatsApp / Viber / Telegram).