Tadija, Nikola, Jovan and Mladen are the best in the Balkans: Serbian IT students win medals
The Serbian team achieved the best overall result competing with 55 participants from 13 countries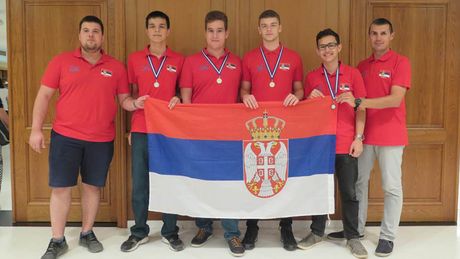 Foto: Društvo matematičara Srbije
A four-member Serbian team won two gold, one silver and one bronze medal at the 27th Balkan Olympiad in Informatics held in Athens.
Two gold medals were won by Tadija Sebez and Nikola Pesic from the Jovan Jovanovic Zmaj grammar school in Novi Sad.
A silver medal was won by Jovan Bengin, from the Mathematics High School in Belgrade, while a bronze medal went to Mladen Puzic, who studies at the same school.
The competition was held September 9-14 in the capital of Greece.
The Serbian team achieved the best overall result competing with 55 participants from 13 countries.
Serbia had a total of 1,411 points and was ahead of second-placed Romania with 1,310 and third-ranked Bulgaria with 1,060 points.
The team leader was Dr. Vladimir Milovanovic, an assistant professor at the University of Kragujevac, while his deputy was Vladimir Milenkovic, a student at the University of Cambridge, according to a statement by the Society of Mathematicians of Serbia.
VIDEO - Razor electric vehicles arrive in Serbia: We tested the electric scooter, these are our impressions
Video:

Razor električna vozila stigla su u Srbiju: Testirali smo električni trotinet, ovo su naši utisci
(Telegraf.rs/ Tanjug)