"Why did you hit on my boyfriend?" A new terrifying video of peer violence, is this the same girl?
"One, two, three, four," one of the girls counts down and slaps her peer
Did the violence against the girl occur over a boyfriend?
The Telegraf.rs newsroom has come into possession of another video showing a girl slapping another, previously accusing her of "hitting on her boyfriend." It hasn't yet been confirmed, but it appears that the video features the same girl who was abused in a schoolyard in Barajevo.
The latest footage shows a girl in a white T-shirt facing a girl in a yellow T-shirt, who looks like the victim from the Barajevo incident - while other peers surround her, touching her hair. Judging by the audio, the video is taken by boys.
"Do you think he would stoop to the level of being with you? Then what did you hit on him? Do you think you stand a chance with my boyfriend? Answer me," the girl in the white T-shirt asks.
During this time, other children continue to touch the hair of the girl in the yellow T-shirt.
"Oh, no, dandruff is falling out, bro," says the girl in white and starts counting down:
"One, two, three, four," she finishes, and slaps the girl.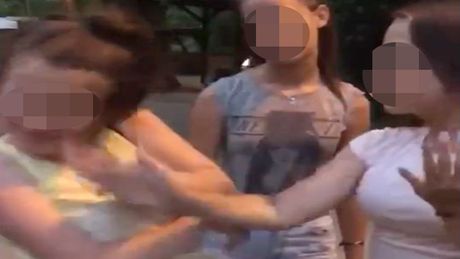 "Five. Now, do you want to..."
The video is abruptly interrupted there, and it isn't clear if the abuse of the girl stopped, or if the slaps continued.
The abused girl looks like the one who was assaulted up by her peers in Barajevo, but that has not yet been confirmed.
After the Barajevo video surfaces, the police, acting on the order of the juvenile prosecution, filed a criminal complaint for violent behavior against two girls, who will be questioned by a judge. The director of Barajevo High School, that was attended by the victim and one of the bullies, was dismissed today on the order of the Ministry of Education.
The terrifying footage of peer violence in Barajevo
(D.D.S.)
Telegraf.rs zadržava sva prava nad sadržajem. Za preuzimanje sadržaja pogledajte uputstva na stranici Uslovi korišćenja.