Vucic at the UN: Solution for Kosovo means no one gets everything, but everyone gets enough
The president of Serbia addressed the UN General Assembly
At the start of his addressed Vucic said that he had the honor of speaking as the president of Serbia, a country of good and honest people.
"Last time I was here, it said that the situation in the world was worse in 2016. I would say it's no easier in 2019. I am a little scared, a little worried, but also a little happy that big countries have not mentioned us in their speeches," said Vucic.
He added that he comes from a small country that suffered the most in World War I and survived great suffering in World War II.
"I will talk about Serbia and the region, because one doesn't go without the other. Serbia is not an island but a part of the Balkans. We want to advocate cooperation in the Balkans," said Vucic.
"I come from a country that had to face very difficult reforms, in 2018 we were on the verge of bankruptcy," Vucic recalled.
"Additional investment in Serbia through knowledge continues, the IT and computer technology sector is growing. But we need decades of peace and work to catch up with European countries."
Vucic added that Serbia maintains excellent relations with the whole world, but that it will be deciding its fate on its own.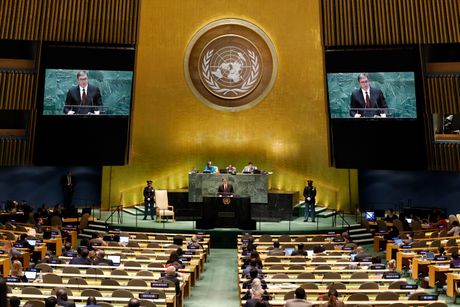 "Serbia chooses an independent foreign policy and independent decision-making, and that is why we are not hiding even in this place. We boast good relations with China and Russia, but also ever better relations with America. We choose top quality goods and we don't care what great powers think."
"You all know that we are facing problems related to the open question of Kosovo and Metohija. The unresolved issue of Kosovo and Metohija has the biggest impact on Serbia's economic growth. As Kennedy said, a lasting solution must be reached so that neither side gets all it seeks, but enough," said the president of Serbia.
He noted that Serbia has fulfilled all obligations from the Brussels agreement.
"We lost a lot of money due to Kosovo customs and we didn't implement countermeasures. As long as that continues, Kosovo will be a training ground for the great powers' interests. A Pristina-Belgrade agreement is of great importance for the stability of the Balkans and we continue to fight for a solution to the Kosovo problem," said the president of Serbia.
He said Serbia has always been situated in the middle of the roads.
"That is why we have completed a road toward North Macedonia, we are building towards Bulgaria, Montenegro and Romania. A rail line towards Hungary," said Vucic.
(Telegraf.rs)
Pošaljite nam Vaše snimke, fotografije i priče na broj telefona +381 64 8939257 (WhatsApp / Viber / Telegram).