The Belgrade Victor is riddled with bullets: 3D scanner reveals as many as 30 bullet holes
And another big problem has only been solved recently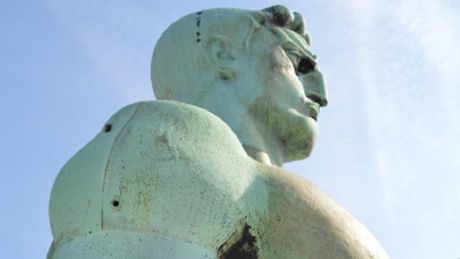 Foto: Printskrin/Twitter
The Victor Monument, a symbol of the Serbian capital Belgrade - although it seems overpowering and untouchable, has been heavily wounded during its history.
The latest "examination" has revealed that there are as many as 30 bullet holes in the monument.
"Although, from a height of 17 meters, it looks untouchable to passers-by, the Victor bears the traces of the tumultuous history that he has witnessed - as many as 30 bullet holes have been found during a 3D scan of our hero," the Victor's profile has tweeted.
Iako prolaznicima koje gleda sa visine od 17 metara deluje nedodirljivo, Pobednik na sebi nosi tragove burne istorije čiji je svedok bio- čak 30 rupa od metaka je uočeno tokom 3D skeniranja našeg junaka #pobednik pic.twitter.com/Jz3JH1seBq

— Pobednik (@PobednikSK) October 2, 2019
It is little known that, over time, the monument became seriously skewed along the axis, relative to the vertical. The deviation, which was as big as 30 centimeters, required the immediate rehabilitation of the foundation, but recently works on stabilizing the structure have been successfully completed.
Radovi se nastavljaju čim stane kiša! U toku je montaža skele, još malo je ostalo do vrha! pic.twitter.com/y8lIaA2xLn

— Pobednik (@PobednikSK) October 3, 2019
The monument itself is yet to be restored, and works will resume once it stops raining, it has been announced on Twitter.
(Telegraf.rs)