What happens after Red Star's match in Kosovo is banned: Here's where and when it will be played!
The game between Trepca and Red Star will still be played, however, in a different location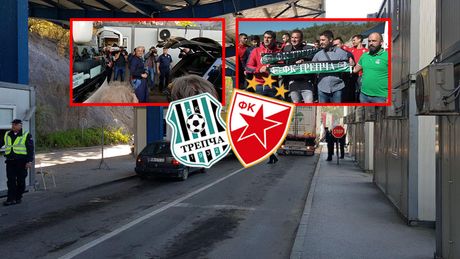 Foto: Telegraf.rs, Wikimedia
The Red Star footballers were not allowed to enter Kosovo today, as they were barred from entering via Jarinje ahead of the match against Trepca, played within the Cup of Serbia.
The match was supposed to be played in Zvecan starting at 2 pm, but it will not take place. Namely, strong police forces of the so-called Kosovo arrived at Jarinje with the intention of preventing Red Star from crossing the administrative crossing.
As Telegraf found out unofficially, the match should be played on Thursday starting at 5 pm in Nova Pazova.
In addition to the strong police forces of the so-called Kosovo, several riot police vehicles were waiting for the Star Red expedition. Therefore, considering the situation, and for the sake of general security, the match has been postponed.
(D.U.)