Former EU high representative on "red lines" in Belgrade-Pristina dialogue
"People need to be told what the future will be like, especially young people, be told that this region should be a place where they will want to live, that will fit into a broader, more optimistic picture," said Catherine Ashton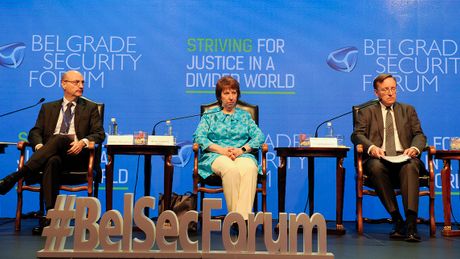 Foto: Tanjug/AP
Former EU High Representative Catherine Ashton, under whose auspices the Belgrade-Pristina dialogue began in 2012, said today at the Belgrade Security Forum that the parties were not asked to cross their red lines and that the aim was to try to bring them at least into the same room, to the same table.
It was an extraordinary thing for them, she recalled the beginning of the talks, stating that the photograph taken after the first Brussels agreement was reached sent a strong message in itself.
She stressed that representatives of the two sides were never asked to cross their red lines - Serbia was not asked to recognize Kosovo, and Kosovo was not asked to deny itself as a state.
Speaking about the first Brussels agreement and the fact that six years have passed since but it has still not been implemented, she stressed the importance of agreements being implemented, as they should make life easier for ordinary people. "That was the first agreement, the idea was by no means that it should be the last," Ashton said at the panel "Sustainable Solutions for the Western Balkans" held as part of the Belgrade Security Forum.
"People need to be told what the future will be like, especially young people, be told that this region should be a place where they will want to live, that will fit into a broader, more optimistic picture," she said.
Asked if representatives of Belgrade and Pristina had the awareness of the urgency of resolving the issues, she said that there was no doubt that they approached the talks seriously.
"They said it themselves that they were nervous, and they were, and they started talking about practical elements, about how they can move forward to make life easier for people," she said.
(Telegraf.rs/Tanjug)