Vucic after the Brussels meeting: EU is Serbia's strategic path, but the referee changed the rules
After the dinner, President Vucic stressed that Serbia's strategic goal is still the path to the EU, but that we need to adjust tactically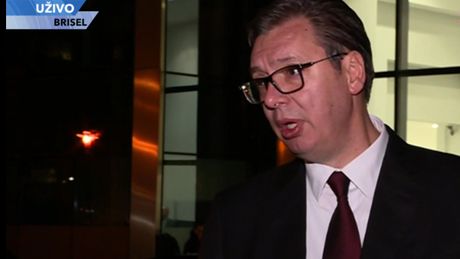 Printscreen: tv Pink
Serbian President Aleksandar Vucic attended a farewell working dinner hosted by the head of EU diplomacy, Federica Mogherini, for the leaders from the Western Balkans.
After the dinner, President Vucic emphasized that Serbia's strategic goal is still the path to the EU, but that we need to adjust tactically, because "the referee decided to change the rules during the game."
In a statement to TV Pink, he emphasized that nobody would ever be able to question our strategic path. He conveyed that the meeting was good, open, where the participants said everything they had to say. He said that the meeting discussed one level of relations toward the EU, as well as another level of relations in the region.
"I am happy because more than ever people understood that we should look after ourselves, talk more openly, safeguard peace and stability," said Vucic.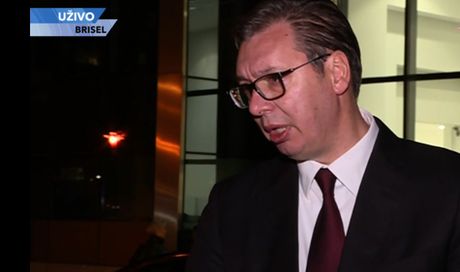 He said that countries in the region would seek to meet more frequently without European mediators, and consider resolving the problems.
"It will certainly be two steps forward and, sometimes, one or one and a half steps back, but in two years we will make a major shift that will result in fewer of citizens leaving," he is convinced.
He pointed out that most participants were disappointed with EU Council's decision about the opening of accession negotiations with North Macedonia and Albania, but said on behalf of Serbia that we weren't - because we knew that would be the case, as, he recalled, he told Zoran Zaev a year and a half ago in Vranje.
He stressed that Serbia will continue with economic reforms, and said that he expects a report according to which growth of 4 percent had been achieved in Q4, while that we will go above the plan set by the World Bank and the IMF.
"The reforms are being conducted for the sake of us and our people. It's a strategic path, while tactically we have to adapt, as the referee decided to change the rules during the game. That way you can also change the weather during the game, so you have to shoot from 20-30 meters to make it easier to score on a slippery pitch," he illustrated the situation, adding that Serbia will continue to cooperate with everyone in the world.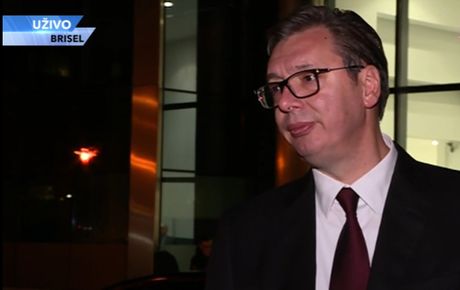 In connection to this, he said that he gave President of the European Commission Jean-Claude Juncker a bottle of 40-year-old vinjak (Serbian brandy made from wine), which he said we are happy be able to sell in Moscow and Brussels.
"Juncker said that was great and okay. We tasted it together when he was in Belgrade. By the way he is not a drunk at all, as some malicious people claim, but a fantastic man who, along with Mogherini, we will miss in every sense," Vucic said.
It's important for Serbia, he added, to see what their views are and to push forward our policy with everyone.
He said he only pleaded with Juncker concerning the Zelezara steel mill, that is, he left it up to him how to release us from the steel quota.
He recalled that Zelezara is our number one exporter and appealed on the EU for assistance because continued quotas would destroy us, specially when it comes to cold and hot rolled steel.
Flowers for Federica Mogherini
Mogerini greeted Vucic and Western Balkans leaders at the headquarters of the European Diplomatic Service in Brussels, and on that occasion Vucic presented the outgoing EU foreign policy chief with flowers as a sign of attention.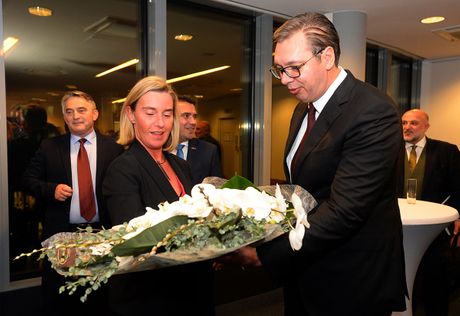 Montenegrin President Milo Djukanovic, Kosovo President Hashim Thaci, North Macedonia Prime Minister Zoran Zaev and all three Bosnia and Herzegovina Presidency members Zeljko Komsic, Milorad Dodik and Sefik Dzaferovic also attended the dinner.
Albania's Prime Minister Edi Rama was not in Brussels because of a previously scheduled bilateral visit to Greece.
"Thank you for your dedication and support to Serbia's European integration," a post on "The Future of Serbia" Instagram account said, where President Vucic thanked Federica Mogherini.
This working dinner is a traditional format in which EU foreign policy chief Federica Mogherini has been bringing together leaders from the region since 2017.
This time it was also a farewell dinner, given that Mogherini's term as EU high representative is ending on December 1.
As announced earlier, in addition to the announced topics, such as assessing the situation in the region, common challenges and results, the Serbian president was expected to insist that the continuation of the Belgrade-Pristina dialogue should also be discussed during the dinner.
(Telegraf.rs)