81 Chinese buses reach Kopar in Slovenia, on their way to Belgrade
The new vehicles, 81 of them, were filmed in the Slovenian port of Kopar as they disembarked from a ship that had arrived from China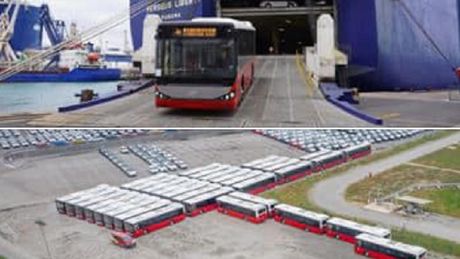 Foto: Facebook/Горан Весић
A new contingent of Chinese Higer buses, that were, according to a contract, scheduled to arrive in Belgrade in the first days of October, is now on the way to our capital.
The new vehicles, 81 of them, were filmed in the Slovenian port of Kopar as they disembarked from a ship that had arrived from China, from where they were to be transported to Belgrade.
Belgrade's city transportation company GSP bought 174 Chinese Higer buses. So far 42 have been delivered, which is why it was announced that the Chinese will be charged penalties.
The Serbian firm, an intermediary in this business, has promised that all 174 buses will be in Belgrade by the end of November.
Goran Vesic, Deputy Mayor, confirmed it on Facebook:
(Telegraf.rs/Tanjug)