Footballer in attempted kidnapping case is former Red Star, now Fiorentina player Aleksa Terzic
It's about Aleksa Terzic, former Red Star player, now a member of the Italian side Fiorentina, Telegraf has been able to confirm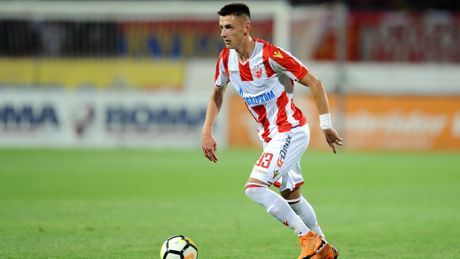 Foto: MNPress
The news that a young footballer went through a real drama last night in New Belgrade as two men tried to push him in the trunk of their car, went around Serbia. Everyone wondered who the footballer was, and as Telegraf has been able to confirm, it was Aleksa Terzic, a member of Serbia's youth national team and a Fiorentina player.
Terzic had been with the Serbian national under-21 team in Nis, where they lost a qualifier to Russia (0-2), returning after the match to Belgrade. It is not known what he was doing in New Belgrade at 3 am when the incident occurred. According to available information, there was an altercation first and then a car crash when an Audi hit the footballer's BMW, in which he was the only occupant. When the young man got out of the car, they tried to push him in the trunk, however, he managed to overcome them and escape.
The two young men then took his car and fled to Kaludjerica, where they were later arrested after Aleksa T. reported the case to police.
Terzic came out of Red Star's youth squad, playing in all junior categories before moving to Graficar. In 2019 he joined Fiorentina for 1.5 million euros. The talented left-back was, along with Dejan Joveljic and the Ilic brothers, the leader of a great Red Star youth team. Before he moved to Fiorentina, there had been rumors that with Milan Rodic's departure from Red Star Terzic would be able to play more, but after the winter transfer market last year and amid big competition, he was transferred to Graficar. In his career so far, Terzic played only six top-tier league games for Red Star.
It's interesting Terzic once had an offer from Juventus. However, he stayed in Red Star.
"I already had an offer to move to the Juventus youth team, but I wanted to pass the development period properly in my country and in the club that I love. I would not forgive myself for not realizing the dream of making my debut for Red Star. In the future, I plan to play for the first team, leave a mark on the club and only once I do that I will be ready to try myself abroad. I think the Spanish league would be the best fit for my style of play. I also like the Italian style of football,"  Terzic said at the time.
(D.S./Telegraf.rs)