Western Serbia snowbound: 3 families had to be rescued, snow up to 2 meters deep in some places
Road companies and drivers are facing problems from high snowdrifts formed by strong wind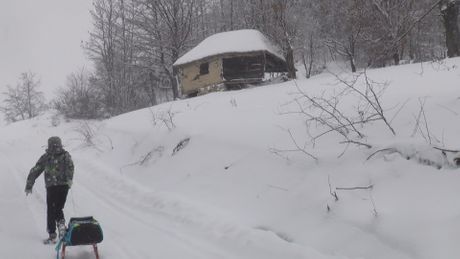 Western and central Serbia is still covered in snow this morning. Heavy snowfall locked in the villages around Ivanjica, while on Mt. Divcibare the authorities had to rescue three families with young children who got cut off from the world with insufficient food supplies and serious health problems.
The rescue operation took place on top of Kraljev Sto, where the three families were left with food for just one more meal. There were also children between one and seven with their parents, the youngest child suffering from serious health problems - a bacterial infection shutting closed both of its eyes. The child is reported to have vomited three times during the day.
It was impossible to walk out of the house on foot and the fathers failed to reach even the nearest store. The authorities promised that they would come and clear the road in the course of the day, which was done, the daily Novosti writes.
Otherwise, snow on Divcibare has been continuously falling for more than 48 hours and is now more than 70 centimeters deep, while in some places this reaches two meters.
Critical in Ivanjica as well
Snow is about 70 centimeters deep in some villages in Ivanjica, while the most critical situation is in Devici, Ostatija, Brusnik.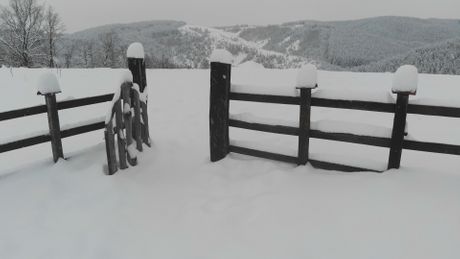 "All available machines are in the field, we react according to priorities. In mountain villages, snow is almost a meter deep and in lower areas up to 50 centimeters. First-category roads have been cleared while local roads are next. Two machines are clearing snow in the area of ​​Erce, Kovilj and Vucak while one is directed towards roads in Sarenik, Cepovo, Glog, Mocioci, Katici, Bela Crkva," said Momcilo Mitrovic, Ivanjica deputy mayor.
What complicates the situation for road companies is that snow continues to fall while high snowdrifts are formed by strong winds.
Today will be cloudy and below zero
Morning was forecast to see light and moderate frost, partly foggy or with low clouds that will remain in the lower regions and valleys until before noon. It will be moderately cloudy during the day, with sunny periods in the north and cloudy with light snow in the morning and noon, the RHMZ announced.
Morning temperatures will range from -6 to -2 degrees centigrade, and the daily highs from -1 to 2 degrees, in the Negotin Krajina area around 4 degrees.
(Telegraf.rs/RINA)
Pošaljite nam Vaše snimke, fotografije i priče na broj telefona +381 64 8939257 (WhatsApp / Viber / Telegram).