Vucic visiting Istanbul for opening of TurkStream pipeline section
During his stay in Istanbul, Vucic will meet with President Erdogan, as well as Russian President Vladimir Putin and Bulgarian Prime Minister Boyko Borisov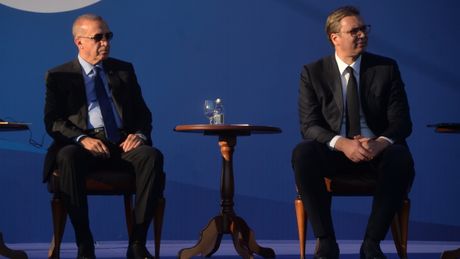 Foto: Tanjug/Zoran Zestic
The president of the Republic of Serbia, Aleksandar Vucic, at the invitation of the president of the Republic of Turkey, Recep Tayyip Erdogan, is visiting Istanbul on Wednesday, January 8, where he will attend the ceremony to mark the start of operation of a section of the TurkStream gas pipeline.
During his stay in Istanbul, Vucic will meet with President Erdogan as well as Russian President Vladimir Putin and Bulgarian Prime Minister Boyko Borisov, the cabinet of the president announced.
Russia is building TurkStream and is working to double the capacity of the North Stream pipeline, which sends gas via the Baltic Sea to Germany as part of plans to bypass Ukraine on the way to the European market.
Russia's Gazprom began shipping about 3 billion cubic meters of gas to Bulgaria via TurkStream on January 1, replacing the former route via Ukraine and Romania, Reuters said. Gazprom reportedly delivered about 3 billion cubic meters of gas to Greece and about 500,000 million to North Macedonia last year.
(Telegraf Biznis)